A Sense of Place: Community Journey to West Africa through Drums and Dance
Description
Community Dancing and Drumming Journey to West Africa at the Clemmons Family Farm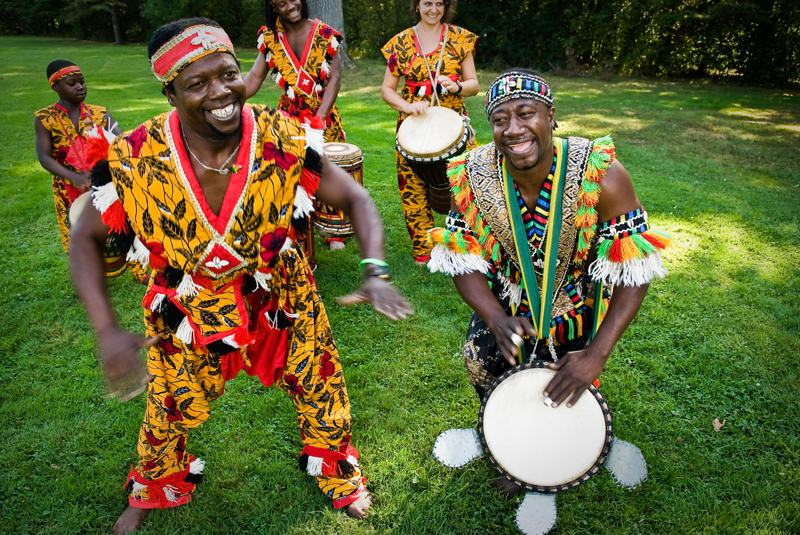 Join us for a set of four different community-building engagements with our collaborating artists Ismael Bangoura and Sidiki Sylla to learn, celebrate and commune around West African art and culture. Ismael and Sidiki are two of the winners of the A Sense of Place project's African-American and African Diaspora Arts & Culture Community Engagement grants. Check out the exciting line-up of four opportunities to build a loving and fun multicultural community with us on a magical place: the historic Clemmons Family Farm in Vermont.
**PLEASE NOTE THAT IN CASE OF BAD WEATHER WE MAY HAVE TO RESCHEDULE THESE EVENTS. IF SO, WE WILL CONTACT THOSE WHO REGISTER TO LET YOU KNOW THE NEW DATES.**
West African Drumming with Ismael Bangoura
Saturday, June 8, 2019; 1:30-2:30 PM
Saturday, July 13, 2019; 1:30 PM-2:30 PM

Master Teaching Artist Ismael Bangoura will engage participants with the rhythms, patterns, and sequences of West African drumming. You will learn cultural songs and will be enveloped in the echo of the djembe and the doundoun right on the Clemmons Family Farm. You'll also be connected to the music that is a part of celebrating births, death, marriage, the harvest, and other rites of passage in West African culture. Nourish your mind, body and soul with these wonderful healing beats!

West African Dance with Sidiki Sylla and Ismael Bangoura
Saturday, June 22, 2019; 1:30-2:30 PM
Sunday, July 14, 2019; 1:30 PM- 2:30 PM

This is a participatory dance workshop that brings the movement and sounds of West Africa to the Clemmons Family Farm. In this dance workshop, participants will be transported to West Africa through dance as they learn and duplicate dance moves that are key to the culture. Dance and music are part of daily life, used to celebrate birth, death, marriage, the harvest and other rites of passage in West African culture. You are invited to join this interactive workshop that will be a challenge to the body and nourishing to the mind. This fun community event will be led by Master Teaching Artists Sidiki Boze Sylla and Ismael Bangoura, both originally from Guinea. Participants should wear comfortable clothing for movement and bring their water bottles for this high energy adventure!
---
More about the Clemmons Family Farm
Did you know that, by your donation to our West African dance and drumming community engagements on the Clemmons Family Farm, you are helping to preserve one of the rare African-American owned farms in the state of Vermont and in New England as a cultural heritage asset for the community? There are nearly one billion acres of farmland in the United States. Over the past century, African-American land ownership in the U.S. has decreased by 93%: from a combined total of 41 million acres to just 3.5 million acres today.
Although African-Americans make up about 13% of the US population, less than half of one percent (0.4%) of all farms in the United States are African-American-owned.
According to the 2012 United States agriculture census, of the nearly 7000 farms in Vermont, only 19 are African-American-owned or operated.
Of the 1.2 million acres of farmland in Vermont, only 740 acres are owned or principally operated by African Americans.
Where do I park?
The West African drumming and dancing will be held outside on the south lawns of the Clemmons Family Farm behind the old Authentica African Art Imports gallery, located at 2190 Greenbush Road (Adirondack Mountain side). Please park across the road (east side of Greenbush Road) on the lawns on either side of the driveway at 2213 Greenbush Road. You will see "Event Parking" signs indicating the areas where you can park and some of our friendly volunteers will be around to help direct you. You will then cross the road (please look both ways before crossing!) and walk overl to the Authentica shop. You'll find our artists and other community members behind the shop where the lawns offer glorious views of the Adirondacks and our organic crop fields.
Is it ok to bring children?
Yes! Children will LOVE these engagements! Please keep a close eye on children under 8. If they get restless during the tour, there's plenty of room outside on the lawns for them to run around, but they will need to be accompanied by an adult and kept away from Greenbush Road.
How can I contact the organizer with any questions?
Please contact us if you have any questions about the event at clemmonsfamilyfarm2art@gmail.com or call and leave us a message at (765) 560-5445 and we'll get back to you.
Where can I learn more about the Clemmons Family Farm?