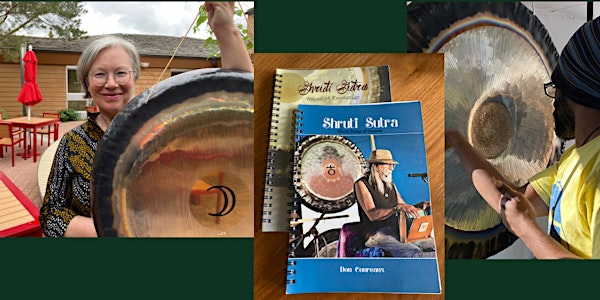 A Sonic Ethnography of Gong Master-Teachers: 10 Themes and a Gong Bath
Join Stacey Bliss, PhD, for a research talk on her sonic ethnographic study and a 45-minute gong bath (sound immersion).
When and where
Location
University of Alberta Arts-based Research Studio 4-104 Education North Edmonton, AB T6G 2R3 Canada
About this event
This is the first event in the 'Sound-Art Series' by Stacey Bliss at the Arts-based Research Studio at the University of Alberta, Edmonton.
Stacey will give a research talk about her 2-year SSHRC Postdoctoral work, which documents the pedagogy and sonic curriculum of 2 international gong master-teachers in the India, the UK, and the US - Don Conreaux and Sheila Whittaker.
For a preview of the research themes, see curated audio tours of the research: https://izi.travel/en/2ce0-10-nights-of-gong-research/en.
After the research talk, you will be sonically immersed in a 45-minute gong bath. Stacey will play a symphonic gong and the 8 Corners of Heaven gong.
Bring a yoga mat, blanket, cushions if you'd like to lay down for the gong bath. Chairs will be provided. The space is fully accessible. All welcome. This is a FREE event, which will be offered live/in-person as well as via zoom, online.
There are 2 ticket types - please choose ONE when you register:
1. IN PERSON - for the live talk and gong bath at the Arts-based Studio at the U of A. The space can accommodate 15 people maximum for distancing. You are required to follow U of A protocols including: proof of full vaccination, wearing your mask, and not attending if feeling unwell. See U of A site for all details: https://www.ualberta.ca/covid-19/index.html
2. ONLINE Attendance - you will get the ZOOM link after you register (using headphones would optimize your sound experience).
A zoom link will be provided after registration, in your eventbrite order confirmation.
Date: Friday, November 5, 2021
Time: 1-2:30pm
Location: Arts-based Research Studio, University of Alberta, 4-104 Education North
About the facilitator: Stacey Bliss, PhD, is an Appointed Academic Colleague in the Faculty of Education at the U of A, and a recipient of a SSHRC Insight Development Grant (2021-2023) for her project: Toward a Sound Pedagogy: A Sonic and Performative Ethnography of 'Sound Healers' in Canada. Her scholarly interests include sound studies in education, critical studies in improvisation, and 'imaginative' ethnographies, including sonic and performative ethnographies. Find out more at: https://blissresearch.org/
Photo above (main event image): Stacey with a moon gong at the Neil Balkwill Civic Arts Centre, Regina; books by Don Conreaux; and, Sarian Martell, gong player in the UK.
Photos below: Stacey playing gongs at the Art Gallery of Regina, June 2021 (photo credit - Evie Ruddy); Don Conreaux and Sheila Whittaker teaching and playing gongs (photos by Stacey during her research, 2019).