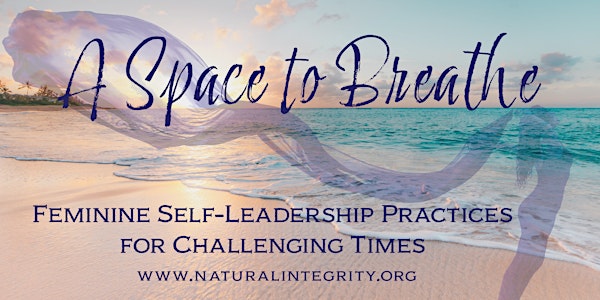 A Space to Breathe - Feminine Leadership Tools for Challenging Times
Join us and discover how to deepen your inner capacities for navigating challenges with a resilient, innovative and resourceful mindset.
About this event
Are you sensing an impulse to make the world a more inclusive and sustainable place to live, yet feel overwhelmed, confused and powerless to tackle such large problems... and need a space to breathe?
"In disruptive times, the power comes from people. - Your presence is your Power!
During these meetings, we nourish our inner capacities (inner compass, integrity, navigating complexity, relating and collaborating...) and enthusiasm to act for positive change.
This relaxing 30-minute session will help you resolve emotional tensions and shift from reactive to creative responses. As a result, you will be able to respond to whatever the river of life brings you with courage, confidence, compassion and service.
Instead of breaking under the weight of the pressures we're navigating, we'll learn to expand in ways that grow your presence as a mature, resourceful & loving person in this world.
You can expect a mix of guided inquiry, meditation, generative dialogue and feminine empowerment coaching, and basic embodiment practices aimed at strengthening your inner guidance and deepening your connection with the natural world.
Be Brave!
Take half an hour for yourself and join us!
***
Who is this workshop for?
These meetings are for women from all walks of life who want to tap into their inner wisdom, feminine radiance, agency and leadership that changes the world from the inside out.
"Cultivating our inner life and developing and deepening our relationship to our thoughts, feelings and body help us be present, intentional and non-reactive when we face complexity."
We ask all participants to come to the meeting with their CAMERA turned ON. To help create a warm, welcoming and safe space, participants with their camera off will be removed. Thanks for your understanding!
✨ A rising tide lifts all boats ✨
If you find the session useful and would like to show appreciation, you are welcome to donate via PayPal: www.paypal.me/MonikaBarcikowska or https://www.buymeacoffee.com/integrityMJB
Join us via Zoom and in the comfort of your own space!
✨The registration is FREE, but the seats are limited to 25 persons.
✨You will receive the Zoom link upon registration.
✨ You may bring to the circle a candle, a journal, earphones, and a cuppa.
Questions?
🌻 Contact Monika via mjbheartbeat@gmail.com
🌻 Learn more about Natural Integrity here:
https://www.naturalintegrity.org/
----- ABOUT ORGANIZER -----
Monika Barcikowska, Ph.D.
Climate Scientist & Feminine Empowerment Coach | Applying Women's Empowerment Principles, Theory U & Nature Connectedness to Unlock Your Sustainability Leadership Potential
Monika's biggest passion is to support women on their journey of becoming changemakers, by helping them to unleash the power of their story so they can activate a more just and sustainable world from the inside out.
Monika combines her experience as an environmental scientist, facilitator of feminine empowerment, and coach for international women in transition and change-makers with her curiosity and passion for creating positive change in the world.
"A dream you dream alone is only a dream. A dream you dream together is reality." - Yoko Ono
https://www.linkedin.com/in/monika-barcikowska-012b5b183/