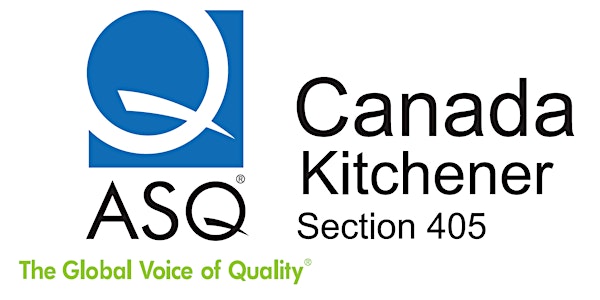 A step-by-step approach to planning, and leading Business Transformation
Date: May 26, 2022 (ASQ Kitchener Section Meeting) Presenter: Nick Khawaja Topic: Data driven methodology for Business Transformation
About this event
Note: Zoom Link is given at the bottom to join the meeting.
Presenter: Nick Khawaja
TOPIC:
A step-by-Step data driven methodology for Business Transformation which will deliver quantifiable and sustainable business results
DESCRIPTION:
The success of any project totally depends upon following a tested and proven methodology which will include standardized tools, templates, and processes to plan, prep and execute.
In this session, Nick will discuss the approach and the methodology to select, prioritize, plan, prep, and execute strategic business transformation initiatives. The presentation will include discussion slides, tools and template examples for planning and preparations, and agenda example to execute the change (improvement) workshop. We will also discuss the process to calculate ROI, and governance and change management techniques that will deliver sustainable and quantifiable results.
INTRODUCTION:
Nick is a client-centric, strategic transformation global leader who has delivered world-class results to various organizations worldwide. Nick leads organizational transformation by inspiring, influential change management, and developing people to create change for the better with global-team leadership. He successfully led the executive leadership teams to launch new, emerging businesses and optimize their core businesses for competitive advantages. Nick coach and guide the executive leadership team to articulate their transformation ambition, quantify those aspirations, and architect a road map for execution. Nick partners with operational leaders to craft a change management strategy, project management setup, and an effective governance mechanism to deliver desired results.
Nick has 20+ years of experience, including management consulting, leading strategic programs, and mission-critical initiatives. His expertise includes organic growth using LEAN Thinking and inorganic expansion via M & A.
Nick has…
• TEN years in Automotive Manufacturing (GM, Delphi, & Ford)
• FOUR years in Strategy and Management Consulting (Booz Allen Hamilton/Booz&Co)
• TWELVE years in Healthcare Revenue Cycle Management and Supply Chain (MedAssets, Conifer, & nThrive)
• Played a leadership role in transforming multiple organizations, nThrive, Conifer, MedAssets, CVS, CDC, Ford, and GM/Delphi
• Master-level expertise in LEAN SIX SIGMA, AGILE, and DESIGN THINKING concepts, tools, and processes for problem-solving and driving a continuous improvement culture
• At Delphi, Nick has worked with MR. YAMADASON and MR. KATTOSON to implement Lean at different sites. This opportunity has enabled me to learn LEAN from the Sensei's who are the inventors of the Toyota Production System
Nick lives with his wife Tanveer, and two kids Maria and Danial in Dallas, TX. In his free time, Nick enjoys cooking to try out different recipes, golfing in summer, and spending time with family and friends on the weekend.
Meeting link:
https://www.eventbrite.ca/x/a-step-by-step-data-drive-methodology-for-business-transformation-registration-344278485217
https://us02web.zoom.us/s/85741324780#success
I look forward to welcoming you to this session.
Regards
Atta (Ayooq) Arain
Program Chair, ASQ Kitchener Section