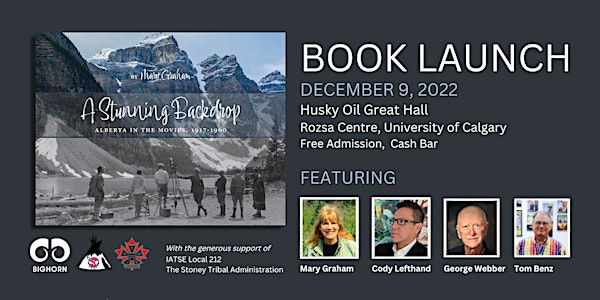 A Stunning Backdrop - Calgary Launch
Join author Mary Graham as she launches her fascinating new book, "A Stunning Backdrop: Alberta in the Movies, 1917-1960"
When and where
Location
Rozsa Centre 206 University Court Northwest Calgary, AB T2N 4V8 Canada
About this event
A Stunning Backdrop is the unconventional story of Alberta's film history, defined by the terrible beauty of its pristine landscape, surprisingly important to Hollywood, and recaptured in lost or ignored Indigenous perspectives and stories.
Join author Mary Graham to launch this fabulous new book and discover the untold history of six rollicking decades of filmmaking in Alberta.
Featuring a panel discussion on Alberta film history with author Mary Graham, photographer George Webber, filmmaker Cody Lefthand, and IATSE Motion Picture Business Agent Tom Benz. Light snacks provided. Cash bar.
We are proud to recognize the sponsorship of the Stoney Tribal Administration and IATSE Local 212.
Husky Oil Great Hall, Rozsa Centre, University of Calgary
Doors 7:00PM / Presentations 7:30PM
Cash Bar
Free Admission. Registration Required.
About the Book:
Alberta's magnificent landscape has served as a popular location for filmmakers since the dawn of the movie industry. For film pioneers, Alberta embodied the myth of the Great Northwest, a primeval mountain wilderness and the last western frontier. In turn, Canadian entrepreneurs were eager for American studios to drape Alberta landscape across the backdrop of their movies, an advertisement without equal.
A Stunning Backdrop is the untold story of six rollicking decades of filmmaking in Alberta. Mary Graham draws on twelve years of exhaustive research to reveal a film history like no other, illuminating the deep importance of the province to Hollywood. She explores the often friendly partnerships between American filmmakers and Indigenous communities, particularly the Stoney Nakoda, that provided economic opportunities and, in many cases, allowed them to retain religious and cultural practices banned by the Canadian government.
Beautifully illustrated with archival photography and featuring century-old set stills alongside photographs of the locations as they appear today, by Jean Becq, Solomon Chiniquay, Jeff Wallace, George Webber, and Paul Zizka, A Stunning Backdrop is the fascinating, often surprising, always unconventional story of film in a province whose rugged, compelling, multifarious, terribly beautiful landscape continues to inspire filmmakers and audiences around the world.
About the Author:
Mary Graham is a writer, documentary journalist, and film historian. She has appeared as a feature film specialist at CBC Radio and ARTE, the European Culture Channel. She presents frequently about her ongoing work on the importance of Indigenous contributions to Alberta film history in the media, and at universities, museums, and other public venues.