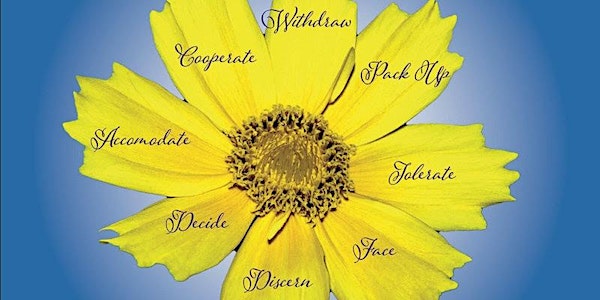 A Summer of Flower Power
A Summer of Flower Power: Boost your inner powers for living!
About this event
We all need power...inner power gives us the strength, clarity and resilience to live our best lives. And to offer our best to others.
Join us for as we explore the inner powers of the soul ~ one per evening ~ every Monday night in July/August.
Drop in for all 8 powers or the one that interests you the most.
July 4 - Power to Withdraw
July 11 - Power to Pack Up (Let Go)
July 18 - Power to Discern
July 25 - Power to Decide
August 1 - Power to Tolerate
August 15 - Power to Face
August 22 - Power to Accommodate
August 29 - Power to Cooperate
Time: 7:00-7:30 pm Collective Meditation in a Group Setting
Time: 7:30-8:30 pm Exploration of one Spiritual Power
Instruction, discussion, experiential exercises and music
This free course will be delivered via the Zoom platform, you will need to download this application in order to participate.
Registration is required.
After you register, we will send you an email to confirm your attendance. 
We will then email a zoom link to all those who have confirmed their registration. 
All programs are offered free of charge as a community service.
Donations are welcome.
We look forward to connecting with you online!
Check us out at http://halifax.brahmakumaris.ca/
The Brahma Kumaris World Spiritual Organization is an international non-governmental organization dedicated to creating peace. We acknowledge the intrinsic goodness of all people and teach a practical method of meditation that helps individuals understand their inner strengths and values. A worldwide family of individuals from all walks of life, we are committed to spiritual growth and personal transformation, believing them essential in creating a peaceful and just world. Acknowledging the challenges of rapid global change, we nurture the well-being of the entire human family by promoting spiritual understanding, leadership with integrity and elevated actions towards a better world.