You're invited to a gathering of friends and associates of Clary Flemming on October 22nd at 6pm. RSVP by clicking/tapping REGISTER button.
About this event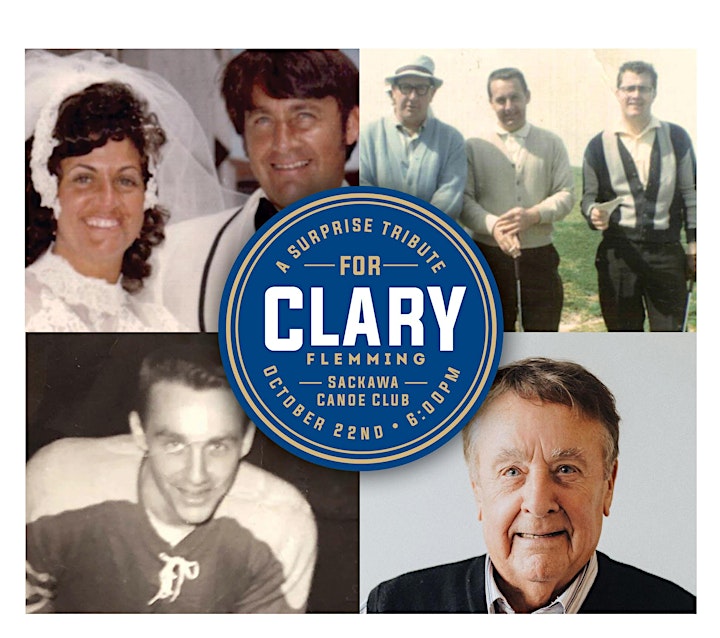 COVID: Please note this indoor event will require proof of vaccination upon arrival to attend.
NOTE: Please RSVP by clicking the REGISTER button and filling in the information.
Details: Light snacks, live music, great conversation and a visual trip or two down memory lane will mark this special tribute over a couple of hours on October 22nd 2021.
Father, husband, son, brother and loyal friend. Clary Flemming has worn many hats proudly with such class and aplomb.
After he and his late wife Eleanor married a family was planned. Clary would tell you his proudest moment came with his first glimpse of his son Craig. Closely followed by seeing his grandchildren for the first time.
Clary has been a pioneer at times in his life as one of the very first Canadians to play pro hockey in Europe. He managed CFDR radio barely out of his teens and led many people to a career in radio and TV. Clary signed ATV on air and became the race announcer at a newly built Sackville Downs Raceway. He was also the ringside announcer for Grand Prix Wrestling, dealing with the Beast, Rudy Kaye and of course Killer Karl Krupp.
Clary was a horse owner and loves harness racing to this day. He is a passionate golfer and the only person we know who has a monthly budget for golf balls. The trees are not his friends.
In Business his company led Sobeys incredible growth from local start up to national giant. Other clients included; IGA, Bens Bread, Oland Brewery, Central Supplies and the Ice Capades.
Clary and his group came up with Sobeys most famous slogan: The Sobeys Touch. But for his friends it was Clary's own touch of class that forged and maintained so many great relationships.
You probably have your own Clary story so please make sure you share it. It's a nice way to thank him for being…well, for just being himself.