A Taste of Theo's Feast

Sunday, 1 June 2014 from 7:00 PM to 9:00 PM (PDT)
Event Details
Come and join Gary & Lynda Stevenson as they celebrate what God is doing through their growing ministry with Power to Change and hear about 2 exciting new outreaches: God & Reason and Theo's Feast!
You will have an opportunty to taste 2 unique dessert dishes from Theo's Feast and directly hear from a number of professors who are involved in teaching God & Reason at SFU.
A Taste Of Theo's Feast is a fundraiser for Gary & Lynda's Ministry that will include an opportunity to invest into God's Kingdom Work through giving towards these exciting initiatives. All donations are elegible for tax receipts, please make checks payable to Power to Change.
If you are unable to join us on June 1st but would like to partner with Gary & Lynda's ministry you can give online at:

tinyurl.com/stevenson-giving
For more information and updates follow us on Facebook at: http://p2c.sh/1t 
God & Reason 
God & Reason is a free not for credit course designed to answer and overcome today's increasingly skeptical students most common questions and objections to the Christian Faith. The 8 week long lecture series is taught by local Christian professors and has been very well received by students and faculty alike.
Since our first offering of the class at SFU in 2011, over 700 students have attended God & Reason classes at  SFU, The University of Waterloo, The University of The Fraser Valley and The University of Toronto.
"I don't think Christian churches like to talk about objections to their beliefs, so I really appreciate that these professors are willing to face the hard questions and give good reasons for their beliefs."
   ~ A student who recently participated in God & Reason at SFU.
"God & Reason has been, by a large margin, the most enjoyable and effective outreach I've ever been involved in. It provides an attractive and safe platform for both professors and students to discuss basic issues of the Christian faith. The course has been well attended, and I particularly enjoy the one-on-one time following each class."
                    ~ Doug Allen, SFU Economics
Theo's Feast
Theo's Feast is an exciting multi-sensory outreach that shares the Gospel message through a 5 course gourmet meal that uniquely pairs the each dish to a timeless Gospel metaphor. Inspired by how Jesus consistently used meals to reveal his Kingdom truths through out his ministry, every element of this elegant dinner is designed to allow diners to literally experience the Gospel through the food.
After a few years in development, we hosted our first Theo's Feast as an outreach to university students on March 1st and have been overwhelmed by the enthusiastic response from our dinner guests, and volunteers. Here are just a few of the comments we received from our Theo's Feast guests:
"A thought provoking experience of new sensations. So original and delicious." 
"It was simply amazing. I was so touched. I never knew that food could be related to such spiritual matters. I think the chef is blessed and indeed all his ideas were inspired by God. At the end of the night, I knelt before my bed and thanked God for such a wonderful experience."
"It changed the way I look at some things that I used to think of as ordinary, can be extraordinary."
"The Taste of Grace was brilliant!"
" I will never look at a lemon the same way again" 
We believe Theo's Feast could be a paradigm shift in how we share the Gospel. Please be our guest to sample a few of our truly original dishes and hear more about what God is doing through these exciting and innovative new outreaches that are changing the way we do ministry.
We are looking forward to celebrating what God is doing with all of our ministry partners on June 1st. We would sincerely apprecaite it if you would consider inviting other passionate believers who might consider partnering with us in this growing ministry.
As with all Power to Change staff, we are trusting God to provide the financial resources to fund these outreaches as well as to provide for our family. Please prayerfully consider joining our team by becoming one of our ministry partners.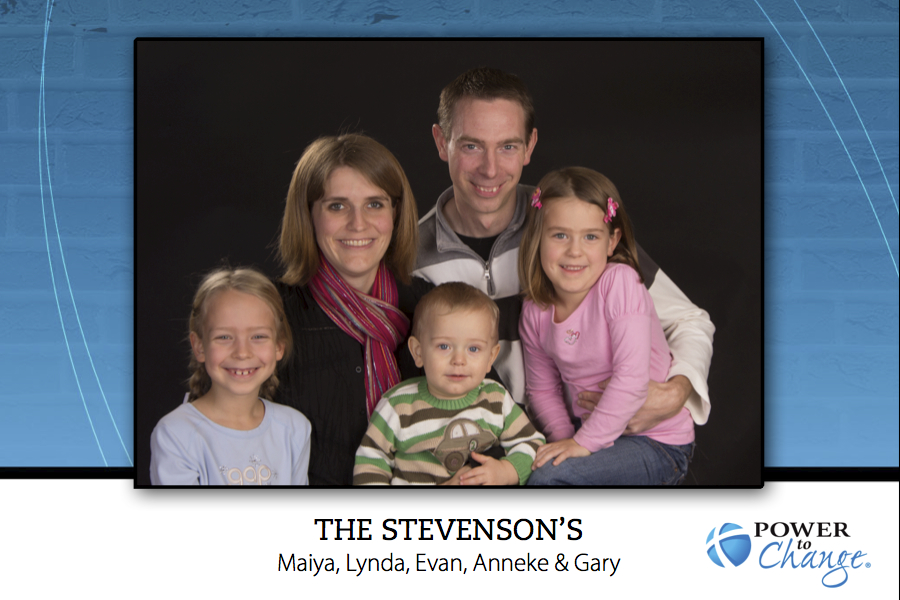 Gary & Lynda's Story:
Gary Stevenson has been sharing the Gospel with university students with Power to Change for over 14 years.  Gary gave up his own business as a Cabinet maker to respond to God's call to reach university students as a result of a short term missions trip to Central America in 1998.
Gary then spent 2 years pioneering the Campus Ministry in Managua Nicaragua where he had the privileged of witnessing God transform the hearts and minds of hundreds of university students, business leaders and even gang leaders.
Gary married Lynda in 2003 and has been discipling students and developing evangelistic outreaches at Simon Fraser University since 2004. 
Gary's has a passion for creating innovative/out of the box outreaches that have consistently been used by other Campus Ministers across the country.  With fruitful and relevant outreaches such as a testimonial campaign entitled "Everyone Has A Story", a national apologetics outreach called Ultimate Questions, and a media campaign that uniquely engages with the identity of Jesus through a number of our current cultures most influential icons called "Impressions of Jesus." 
On June 1st, Gary and Lynda are excited to share what God has been doing through their most recent outreaches, God & Reason and Theo's Feast.
For more information and updates follow us on Facebook at: http://p2c.sh/1t 
When & Where

Power To Change
20385 64 Ave
Langley, BC V2Y 1N5
Canada

Sunday, 1 June 2014 from 7:00 PM to 9:00 PM (PDT)
Add to my calendar
Organizer
Power to Change seeks to make an impact in the world by helping students to grow as leaders and explore the spiritual dimension of life.