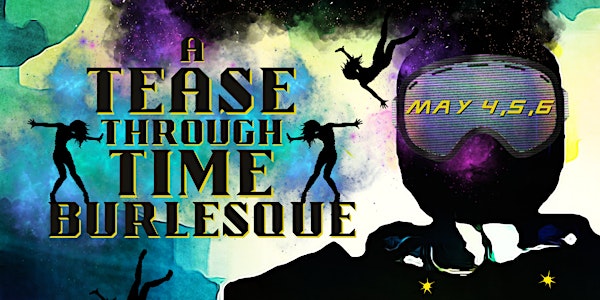 Multiple dates
A Tease Through Time - Sudbury Burlesque Show
Sudbury Burlesque: A Tease Through Time!
By Sudbury Burlesque Productions
Date and time
Thu, May 4, 2023 8:00 PM - Sat, May 6, 2023 10:30 PM EDT
Location
The Grand 28 Elgin Street Greater Sudbury, ON P3C 5B4 Canada
About this event
This May let Sudbury Burlesque transport you to the sexiest times in human history! Join them for a wild and goofy ride packed with tantalizing twists and turns, steamy performances, and sensuous surprises. Adorned with sparkling costumes and a healthy dose of humour and mischief, these seasoned performers will keep the audience guessing as they time travel to iconic times and places before your eyes.
With over 20 local and travelling performers, on-site surprises and more, this over-the-top spectacle of a show is one you definitely do not want to miss!
DATE: May 4th, 5th & 6th 2023 at The Grand Theatre, Sudbury, ON.
DOORS: 7 pm. SHOW: 8 pm.
19+ event
DRESS: Encouraged, but not mandatory. Help make the night more fun by dressing our time travel theme! Dress up as someone in your favourite time period, or as an iconic person in human history, or even a character from a time traveller movie. The possibilities are endless with this one and we have an amazing prize for best dressed!
TICKETS / SEATING: This is a mix and mingle event with half of the patrons having seating and the rest mingling about freely checking out the vendors, front lobby, visiting the bar, trying out the balcony view and watching the show from our standing room only areas at the front of the stage. Ticket options are tiered and listed below.
*To help us ensure your party is seated together, please purchase all tickets in one order if possible. If tickets are purchased separately, please inform us via email at sudburyburlesqueinfo@gmail.com. Please arrive altogether on the night. Priority seating is assigned based on date of purchase. Seating facilitated by Sudbury Burlesque fun ambassadors who will help you find your seats upon arrival.
GENERAL ADMISSION - These are standing room only tickets, but all buyers also have access to balcony seats and of course, the standing room only areas right in front of the stage.
FLOOR SEATING - We have about 120 seats available on the floor for those who prefer to reserve a seat for the evening. Floor seats are closer to the stage, and though we have added a second stage to increase visibility, the seating is not scaled, so some lower sight lines may be slightly obscured. We remind patrons to not feel as though they need to stay in that seat and encourage visiting different viewing areas such as the balcony or the standing room only area, which is a fantastic way to see the show up close and personal!
STOOL SEATING - These seats are located around the lower bar and behind the floor seating section.
4 PERSON FLOOR BOOTHS - (Only four available per night). These booths are located along the right side of the floor section and come with a small table. Fits a maximum 4 people per booth. Does not include bottle service, however, it can be purchased for the table on site. Party is encouraged to arrived all together.
VIP BOTTLE SERVICE BOOTHS - (Upper level). The fee includes the event tickets for each person seated in the booth and a $100 non-refundable DEPOSIT towards your total for the Grand's $375 BRONZE Bottle Service Package. Add ons and upgrades to the package can be made by emailing sudburyburlesqueinfo@gmail.com. (See bottle service packages below). Note: Additional patrons may not be squeezed into these booths unless they have also purchased a floor seat.
*PHYSICAL CASH ONLY GENERAL ADMISSION TICKETS COMING SOON.......LOCATIONS TBA
www.sudburyburlesque.com
Frequently asked questions
How old do you have to be to come to the show?
How do I purchase tickets?
What can I expect at a Sudbury Burlesque show?
About the organizer
Sudbury Burlesque Productions