For years, you've been told that you cannot succed. Not because of your diplomas or gender, simply because of your skin color.
About this event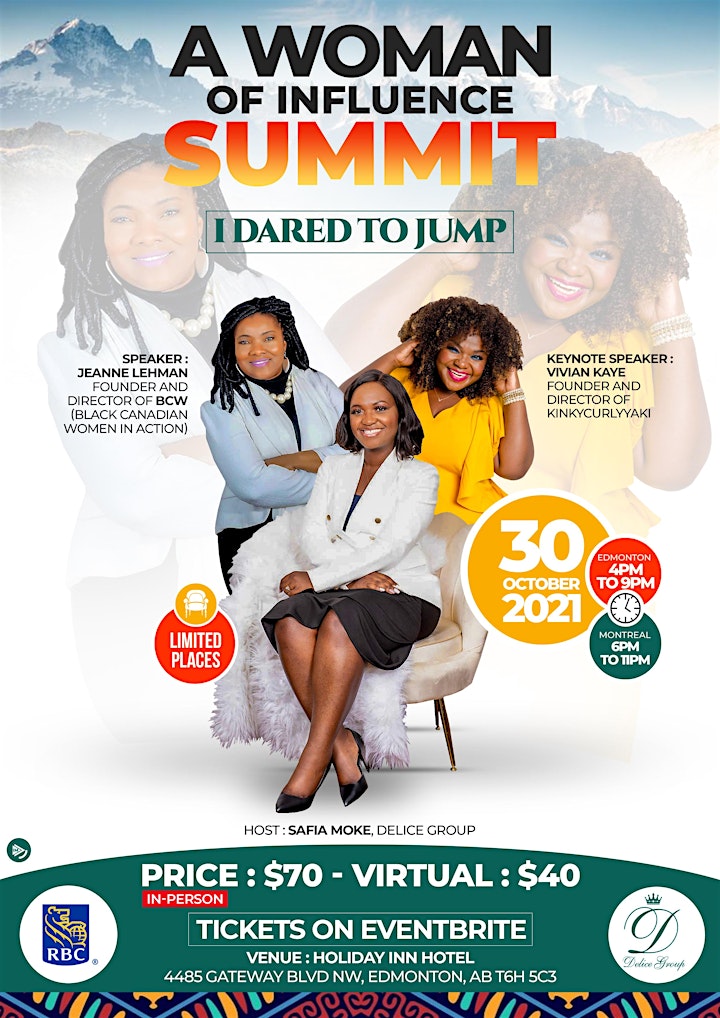 A Woman of Influence, the Summit aims to take the black and colored woman to pursue her dreams. We want to show her that nothing is too big, you just have to dare to start dreaming.
Our keynote speaker dared to dream, not only dream but to dream BIG. On October 30th, in partnership with RBC, we will have the pleasure to receive Vivian Kaye the CEO of KinkyCurlyYaki.
While she's been told to look like everybody else, Vivian saw an opportunity to show her difference. She identified a need in the black community for high-quality hair extensions that matched the natural hair texture of black women. With little knowledge about the business, she started KinkyCurlyYaki in 2012. Today she bootstrapped to over $6 million in revenue as an immigrant, college dropout and single mom. Her presence and genuine desire to continuously learn and grow while keeping it REAL quickly made her a personality who transcended the title of Founder and CEO.
**2ND SPEAKER**
Jeanne Lehman is the founder and Executive Director of Black Canadian Women in Action / Black Canadian Women in Action (operating under the acronym BCW or BCW in Action).
BCW in Action is a bilingual, non-profit organization committed to making a difference in the lives of women, girls and families in Black Canadian communities living in Western Canada. BCW In Action's vision is to promote the empowerment of these Canadian women and their families in all sectors of society by building self-esteem, leadership and confidence through conferences, workshops, programs. , etc. Jeanne is committed in her vision to fight for women, girls and families of black communities and encourages them to get involved and take part in the cultural, economic and social life of this country which is now theirs. She believes that successful integration of newcomers and black families will allow Canada to avoid social divide, be more prosperous and perpetuate the values of diversity and inclusion that characterize our country.
After this summit, you will leave with more knowledge, contacts (network) and an strong mindset to accomplish great things. This is our wish for you! Do not miss !!
The event will be bilingual!
Doors open at 3: 30PM for networking
_________________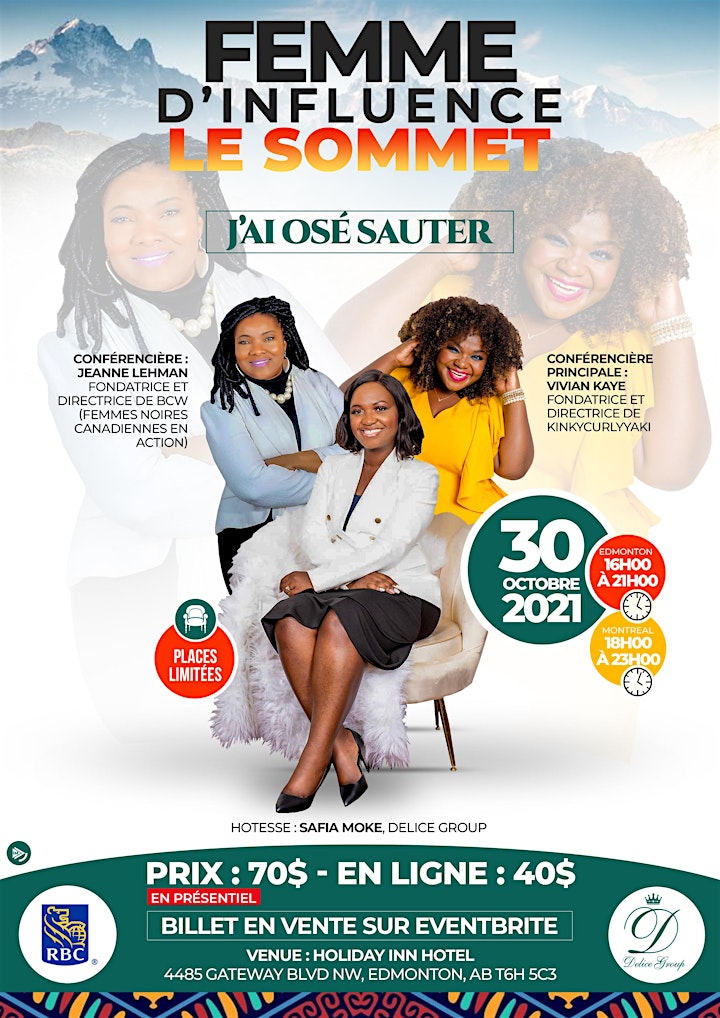 Pendant des années, on vous a dit que vous ne pouviez pas réussir. Pas à cause de vos diplômes ou de votre sexe, simplement à cause de votre couleur de peau.
Femme d'influence, le Sommet vise à emmener la femme noire et de couleur à poursuivre ses rêves. Nous voulons lui montrer que rien n'est trop grand, il faut juste oser rêver.
Notre conférencière a osé rêver, non seulement rêver mais rêver GRAND. Le 30 octobre, en partenariat avec RBC, nous aurons le plaisir de recevoir Vivian Kaye la PDG de KinkyCurlyYaki.
Alors qu'on lui a dit de ressembler à tout le monde, Vivian a vu une opportunité de montrer sa différence. Elle a identifié un besoin dans la communauté noire, pour les extensions de cheveux de haute qualité qui correspondent à la texture naturelle des cheveux des femmes noires. Avec peu de connaissances sur l'entreprise, elle a lancé KinkyCurlyYaki en 2012. Aujourd'hui, elle a atteint plus de 6 millions de dollars de revenus en tant qu'immigrante, décrocheuse universitaire et mère célibataire. Sa présence et son désir sincère d'apprendre et de grandir continuellement tout en restant RÉEL ont rapidement fait d'elle une personnalité qui a transcendé le titre de fondatrice et PDG.
**2e INTERVENANTE**
Jeanne Lehman est la fondatrice et la directrice générale de Femmes noires canadiennes en action / Black Canadian Women in Action (opérant sous l'acronyme BCW ou BCW in Action).
BCW in Action est une organisation bilingue à but non lucratif, engagée à faire la différence dans la vie des femmes, des filles et des familles des communautés noires canadiennes vivant dans l'Ouest canadien. La vision de BCW In Action est de promouvoir l'autonomisation de ces canadiennes et de leurs familles dans tous les secteurs de la société en renforçant l'estime de soi, le leadership et la confiance au moyen de conférences, d'ateliers, de programmes, etc.
Jeanne s'engage dans sa vision à pétitionner pour les femmes, les filles et les familles des communautés noires et les encourage à s'impliquer et à prendre part à la vie culturelle, économique et sociale de ce pays qui est maintenant le leur. Elle croit qu'une intégration réussie des nouveaux arrivants et des familles noires permettra au Canada d'éviter la fracture sociale, d'être plus prospère et de perpétuer les valeurs de diversité et d'inclusion qui caractérisent notre pays.
En sortant de ce sommet, tu en repartiras avec plus de connaissances, de contacts (network) et un mindset de fer pour accomplir des grandes choses. Tel est notre souhait pour toi! Ne manques pas!!
L'évènement sera bilingue
Les portes ouvriront à 15h30 pour networking (connection)
Delice Events, part of Delice Group, is an event planification company, based in Edmonton (Canada).
The company was created in 2018 by Safia Moke.
Safia is a wife and mother of two children. Aside from her passion for event planning, she is also passionate about encouraging women to start their business and above all to believe in their abilities. She believes that in every woman there is a gift in her and it just needs to be developed. Besides her hat as a wife, mother and entrepreneur, she also wears the hat of coach and motivator. Safia's biggest dream, is to see more black women and women of color into business.
The summit of the influential woman is a project that has been close to her heart for years and today, it finally comes to life.
_________
Delice Events est une entreprise de planification d'événements, basée à Edmonton (Canada).
La société a été créée en 2018 par Safia Moke.
Safia est une épouse et mère de deux enfants. En plus de sa passion pour l'organisation d'événements, elle se passionne également pour encourager les femmes à démarrer leur entreprise et surtout à croire en leurs capacités. Elle croit que dans chaque femme il y a un don en elle et qu'il a juste besoin d'être développé. Outre sa casquette d'épouse, de mère et d'entrepreneure, elle porte également la casquette de coach et de motivatrice. Le plus grand rêve de Safia, est de voir plus de femmes noires et de couleur se lancer dans les affaires.
Le sommet de la femme d'influence est un projet qui lui tenait à coeur depuis des années et aujourd'hui, il voit enfin le jour.