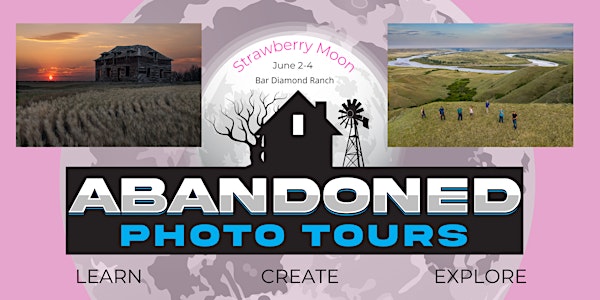 Abandoned Photo Tours: Bar Diamond Ranch - Strawberry Moon
3 days & 3 nights of abandoned bliss under the Strawberry Moon with instructors Robert Scott and Scott Dimond.
By Robert Scott Photography
Date and time
Fri, Jun 2, 2023 1:00 PM - Sun, Jun 4, 2023 11:30 PM MDT
Location
Bar Diamond Ranch Range Road 41, Bindloss Alberta Bindloss, AB T0J 0K0 Canada
Refund Policy
Contact the organizer to request a refund.
Eventbrite's fee is nonrefundable.
About this event
2 SPOTS REMAINING!
!!!PLEASE READ!!!
Prepare yourself for a weekend of abandoned bliss! Accommodations at the beautiful and remote Bar Diamond Gust Ranch under the Strawberry Moon!
Join TWO of the most passionate abandoned photographers in Canada, Robert Scott and Scott Dimond, for 3 days and 3 nights of abandonment, landscape, portraiture and in class presentations of composition, night photography and editing.
PRICE INCLUDES WORKSHOP, ACCOMMODATIONS AND MEALS!
Breakfast X3 (Sat, Sun, Mon)
Lunch X3 (Friday, Sat, Sun)
Supper X3 (Friday, Sat, Sun)
Accommodations x3 (Friday, Saturday, Sunday Nights)
There are single and double occupancy rooms available. There is a 117 year old cabin with 5 bedrooms and the cook house with multiple single rooms. There is a massive quonset with a ping pong table, foosball, TV, Bar, lounging area and multiple beds with dividers. Plenty or room for our group.
------------------------------------------------------------------------------------------------------
Bar Diamond Guest Ranch
Range Road 41, Bindloss Alberta
(403)504-9743
www.bardiamondguestranch.ca
GPS - 50.93429660661496, -110.44806122913762
------------------------------------------------------------------------------------------------------
Itinerary: This is a 'TENTATIVE SCHEDULE'. These will be approximate times as we tend to stay and leave whenever the group feels they're ready to move on. The schedule may change if new locations are added to the tour.
Because our locations change based on weather and time, our locations will be determined closer to the events.
Day 1: Friday, June 2nd
1:00pm - Introductions, Paper Work and Presentation at Bar Diamond Guest Ranch.
- Yellow House
- St. Peter & Pauls Church
- Huge House
- Steel Bin House #2
- Steel Bin House #1
- Acadia Valley House (Night Shoot)
9:29pm - Sunset
DAY 2: Saturday, June 3rd
5:10am - Sunrise Bar Dimond Ranch Look Out
- Andersons Barn
- Mahoney House
- Bob Doran Yard
- Anderson House
- Todd Farm
- Gillespie House
- Fairacres School (Night Shoot)
9:28pm - Sunset
Day 3: Sunday, June 4th
5:09am - Sunrise Bar Dimond Ranch Look Out
- Lone Grave
- Heffernan House
- Ukrainian Cemetery
- Farming Valley School
- Otto's House
- Bachelor's House
- Salik House (Night Shoot)
9:26pm - Sunset
There will be Multiple Locations on this tour. You can reference some of the photos below. There are so many to choose from within a 2-hour radius. We have chosen the best locations. Our primary focus for this tour will be abandoned photography, landscape photography, and nighttime photography, in addition to photo editing and portraiture photography.
------------------------------------------------------------------------------------------------------
Meals, Rules & Information:
- There will be a packed lunch provided for you. You are responsible for any other provisions you need to bring with you. I'd recommend some additional snacks and water.
- Breakfast will be served when we decide as a group. We just need to let 'JO' know what time we wish to have breakfast. This usually happens after we do the sunrise shoot. We will head back to the ranch, re-group and then meet for breakfast. This usually happens around 7:30/8:00am.
- Supper will be left for us in the refrigerator in our cabin OR at the cook house, so when we return you may have it then. On past tours we've also decided as a group to come back for supper and then head out for the night shoot. Again this can be determined by the group or by the instructors depending on what they have planned.
- There are NO bathrooms at any of the locations on the tour. Go before we leave. There is plenty of wilderness to do your business. Bring your own toilet paper.
- Please NO drugs or alcohol. If you are a smoker, there is no smoking at the locations. Please do so in your own vehicle. Please no littering.
- Do not park in long grass as the undercarriage of vehicles could ignite a grass fire. Farmers are very concerned about this practice.
- Please be polite and respectful to everyone. Be mindful of where people have set up and always ask if you can can pass in front of them. Remember, get your shot and move on.
- Please shoot! Don't sit in your car or in your chair and wait for the best light. The tour is what YOU make of it. I take you to the best spots. It's up to you and motivation from others to practice your craft and go home with a memory card(s) full of art!
- Please DO NOT disclose any of the locations on social media. We have permission to be here from the landowner for this private event only. This is not open permission to return. If you do return and get caught, DO NOT drop our names or 'Abandoned Photo Tours'. We want to see these places around for many more years.
-------------------------------------------------------------------------------------------------------------
Transportation:
- Participants are responsible for their own transportation.
- Carpooling is recommended if you know someone on the tour but it isn't mandatory. This helps keep the convoy of vehicles down to a minimum.
- We will be on a few gravel roads so please have a reliable vehicle. AWD or 4X4 recommended as the gravel roads can sometimes be unpredictable.
- We are not responsible if your windshield is damaged from a rock or if you hit an animal.
- Robert can take 2 people plus their gear and supplies in my jeep. Let me know and I'll save you a seat and Scott can take 1 person.
- Maps to the locations will be handed out. If you feel the need to pull over to capture a landscape scene or you've spotted some wildlife.
------------------------------------------------------------------------------------------------------
Gear:
- A DSLR/MILC/DSLM/FILM Camera, Full frame or Crop Sensor.
- Extra batteries, chargers, cables, memory cards and lens cloth for condensation on your lens. Did I mention EXTRA BATTERIES?
- Recommended lenses are: Wide angle lens 14mm - 24mm for landscape or interiors, Telephoto Lens 70-200mm for closer up compositions or wildlife. A recommended aperture of 1.4 - 2.8 for night photography/stars. 3.5 - 4.0 will also work but not ideal. You can always rent a lens for the weekend.
- Please keep in mind that if you have a crop sensor you'll have to account for the crop factor. For example, if you have a 24mm lens on a Crop Sensor then your lens will actually function as a 38mm lens. This will affect the night photography portion of the tour if you want to shoot along side with others who have a full frame sensor. All this means is that you'll have to compose the house and stars further back than everyone who is using a full frame sensor.
- Please bring your camera manual. This is a photo tour and you should have a good working knowledge of your camera. I shoot with a Canon and I'm becoming familiar with some camera models, and there may be some participants who can also lend a hand, but it's your responsibility to know how to work your own camera.
- A reliable tripod, tripod head and quick release plate. Spend the money on a good set of legs as it'll save you time and make the experience more enjoyable. People tend to get frustrated and will be more inclined to give up and go home if they're struggling with their gear.
- L-Bracket for your camera model. This is not necessary but it will definitely speed up your composition process when changing from Landscape to Portrait orientations. If you're unsure what an L-Bracket is, google it in conjunction with your camera model.
- Shutter Release Cable (or you could use your 2 second timer, anything longer than a 30 second exposure you'll need a shutter release cable because you'll be using BULB Mode).
- A chair. Although I never use one, the trend is to bring a chair and sit while shooting. Some like to take a break and may have bad backs or knees so this will be a welcomed comfort. I also recommend you keep moving and shoot as this will keep you warm and motivated.
- Warm clothing. Reliable coat especially to cut the wind. Rain jacket and water resistant pants. Boots with ankle supports as there will be uneven ground and gophers holes. A toque and warm gloves and rubber boots.
- A headlamp for the night photography portion. If you have the option, please use the 'RED LED' light as a courtesy for other shooters. There's nothing worse than someone's light in your shot. Using your cellphone for a light source is cumbersome and takes away from the experience.
------------------------------------------------------------------------------------------------------
Camera Settings:
- Shooting in RAW vs. JPEG. It's OK to shoot in JPEG, but you'll be limited when editing your images. If you shoot in RAW your files sizes will be bigger and your memory card will fill up quicker, so please be sure to have a couple of additional memory cards with you.
- How to set your camera to a 2 second timer. This will get your hands off the camera to alleviate camera shake.
- Be sure to have your 'Long Exposure Noise Reduction' set to OFF'. If it is set to 'ON' then the wait time for your image to process within your camera will double. For example; during the night photography portion, a 30 second exposure will turn into an additional 30 seconds of processing within your camera. So you'll be waiting longer than everyone else who doesn't have this function turned on. The waiting can be annoying and take away from your experience.
- How to shoot in Manual (M), specifically how to change your shutter speed, ISO and aperture.
- How to access your LIVE VIEW mode (If you have it as an option). This will help with the nigh photography portion.
- Set your LCD brightness to maximum. This is a game changer for many people. They'll now be able to see their image brighter and clearer on the back of their camera. It definitely helps.
- Learn how to access your histogram on your LCD display. This will give you an accurate reading of your exposure. Most people rely on the back of their LCD screen image to determine the quality of an image. Don't trust your LCD screen. Learn how to read your histogram. Some camera models also have a built in digital level and grid display, this can be advantageous when composing.
------------------------------------------------------------------------------------------------------
REFUND POLICY
- Your ticket is TRANSFERABLE, that means you're responsible for collecting payment for your ticket and relaying the information to 'Abandoned Photo Tours' about the new participant.
- Please be aware that photographers can shoot in all kinds of weather. No refunds will be issued if the weather is rainy or cold and not suitable to your standards. If lightning is forecasted for the weekend or severe weather, this can make for great photos, therefore we will still shoot however safety will be our main concern. If you choose not to head out with the group, you can stay around the Ranch and shoot solo.
- If you are a 'Fair-Weather' photographer, then this course may not be for you.
- There will be some walking, bending and kneeling. Please be healthy, and ready to be physical.
- Please have any medication you need handy, ie., allergy, pain, heart medication, epipens, diabetic equipment etc,.
- If you have bad hips, bad knees and have cardio vascular or underlying health conditions then this tour may not be for you.
- Please feel free to contact me if you have any questions, comments or suggestions. Thank you and see you soon!
Robert Scott & Scott Dimond