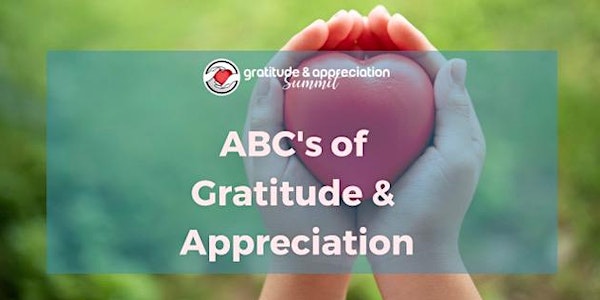 ABC's of G.A.S. - Scary Business Learning
Gratitude & Appreciation Workshop Series
About this event
Join us as we spotlight experts in Gratitude and Appreciation.
ABC's Workshops give you the opportunity to learn from the experts on how to intentionally implement gratitude into your daily life.
Workshop Description:
Scary things Small and Medium business employers are thinking about…
Labour shortage. Competition to hire. Competitive wages. Battling the giants like Amazon & Disney's of the world for talent. Experienced workers are expensive. How can we as small business owners be competitive? How can you even think about keeping your doors open and having a great customer experience if you can't even find workers?
These are all things we hear from Small and Medium businesses right now when you ask about talent recruitment. Benefits are typically just a check box on compensation lists when they are thinking of hiring. Right now, most companies think that benefits are the same and it's useless to try to complete for talent with their benefits. What if there was unknown, advantages that you could access as a Small, Medium business owner in your Total Benefits Experience that gives you an edge? What if this edge could help you attract the talent you want and directly impact your customer's experiences as well? What if you have advantages that you just need to learn about that could make all the difference? Learn more with us on October 29th 9:30am-10:30am on how "Benefits with Heart" can change the way you think about your people and what they really want in your Total Benefits Experience.
Questions you may have will be answered: Is it possible to see human first in your benefits strategy? What do you mean by human centered benefits? How can our Total Benefits Experience be a competitive advantage.
About Kalina Donald
Kalina is thought leader, a connector and a community builder. Founder of LBR, and the EXCX Thought Leaders and HumanizeX Community with Executive Roundtables and Immersive Experiential Learning. She is passionate about helping companies to thrive by focusing on the organization's people's experience. When people are inspired, happy and healthy – productivity skyrockets.
A true Vancouverite, born and raised, as a management consultant, she has been partnering with internal strategy teams embedding successful Total Benefits Experiences into organizations' culture for over 15 years (clients include Goldcorp, BCLC, WorkSafeBC, to name a few). She has seen first-hand the gains to be had from inspired employees and teams.
As a CXIO, a TBX Strategist and "Experience-ologist", we meet you where you are at.
I leverage design thinking concepts to find your biggest business need. Thinking human first, being deeply curious and with empathy, we inspire your people's experience.
We strategize every capital invested, including time, talent, energy in all Experiential Environments (Physical, Technical and Cultural). Your opportunity to unlock the potential of your people, internally and externally.
The result is an inspired Humanized Experience, productivity gains that drive business results.
What is most important to me? What is my purpose?