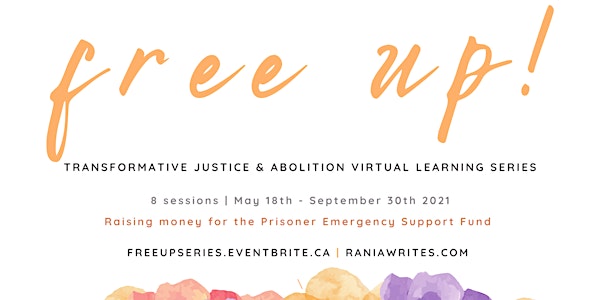 Abolition & Survival: Transforming Sexual Violence
Refund policy
Contact the organizer to request a refund.
Eventbrite's fee is nonrefundable.
Exploring survivor centered transformative justice as a building block for abolition.
About this event
SEE BELOW FOR PREREQUISITES
This session is rooted in an understanding that many abolitionist organizers are survivors who have experienced intersecting forms of sexual and state sanctioned violence. Many anti-abolitionist politics uphold policing and carceral punishment through the narrative of protecting communities from sexual violence. These frameworks operate on the assumptions that police, and imprisonment protect communities from this type of violence, rather than as institutions that produce the conditions of sexual violence. In this session, we will explore the implications of transformative justice for cultivating cultures of consent and honoring the agency, self determination and healing of survivors. We will also explore the ways in which survivors are criminalized, re-traumatized and punished by carceral systems.
Participants will explore models for resistance that address the ways in which sexual violence produces collective and intergenerational traumas that impact the most marginalized in our communities in intersecting ways.
ASL | Live Captioning | Notetaker
*This session has two prerequisites -Introduction to Transformative Justice: Beyond Punishment & the Carceral State AND Transformative Justice: Practices & Challenges in Interpersonal & Community Repair
Free Up! :Transformative Justice & Abolition Virtual Learning Series
General Series Description
Free Up! is an 8 part abolition & transformative justice learning series benefitting the Prisoner Emergency Support Fund. Organized by Rania El Mugammar, with generous contributions from guest facilitators, this virtual series features workshops, panels, case studies and labs that explore justice for incarcerated folks, dreaming and building abolitionist futures, transformative justice in our families, building alternatives to policing, mutual aid and more.
The series can be experienced as an immersive course, or on a session-by-session basis*. 100% of ticket sales support the Prisoner Emergency Support Fund.
*Please note that Intro to Transformative Justice - the first session in the series is a prerequisite for case studies and more advanced/later sessions. Please see each session description for more information.
Please note:
We strive to create a brave space for all participants. In order to help folks make bold moves into progressive thinking and actions, all conversations and material shared during these workshops are strictly confidential and cannot be shared through media of any kind.