Aboriginal Curatorial Collective Celebration and 2015 Annual General Meetin...
Description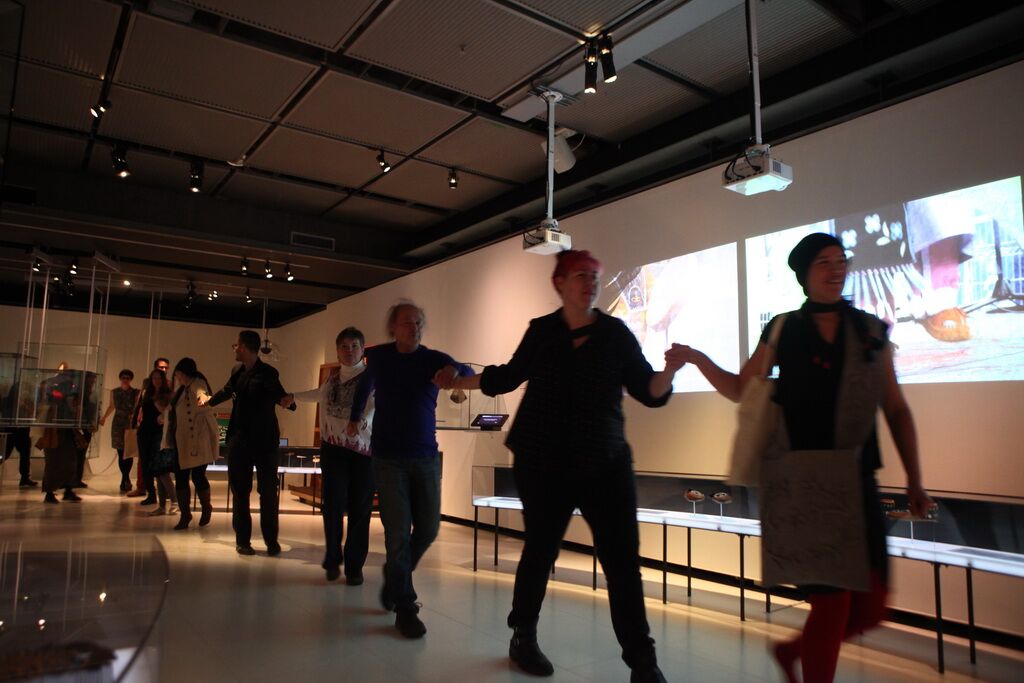 Image credit: Maria Hupfield's Artist Guided Tour, performed at the McCord Museum Montréal, Iakwé:iahre Colloquium October 2014'. Photo taken by Scott Benesiinaabandan
Free Event - The Aboriginal Curatorial Collective (ACC) is celebrating its 10th anniversary this year! Please join us for this special gathering at the Art Gallery of Ontario (AGO) on Sunday September 20th. Please RSVP online (see Evenbrite link below).
We will honour our founders and the many people who have greatly contributed to the ACC and the Indigenous curatorial community. Without their initial vision and drive to make the Aboriginal Curatorial Collective a reality, the course of Aboriginal arts in this country would have been very different. The ACC has enabled Indigenous artists, curators and critics to claim a space within the discourse of contemporary art and voice their knowledges and understandings so that these may be valued and respected. Two of the original founders will be in attendance, Ryan Rice and Ron Noganosh, while others will attend by Skype. Members are welcome to say a few words if they wish.
We will also hold a talking circle to discuss Aboriginal artistic and curatorial practices: how have these evolved through the years and what needs to be accomplished as a collective to make a difference in the future?
Following the circle, Lisa Myers, current AGO artist-in-residence, and the ACC invite you to share a traditional feast. Lisa and the AGO's chef Renee Bellefeuille have created the menu together. At the end of the meal, the spoons stained by berries will be collected to become part of her stop-motion animation project entitled Each Portion.
After the feast, we will hold our Annual General Meeting. We will review the many accomplishments of the last year and discuss our future projects.
For our final event of the day, Wanda Nanibush, Anishinabe-kwe artist and guest curator at the AGO will guide us through the Canadian Galleries. The commented tour will focus on the work of Aboriginal artists in the collection, notably Nadia Myre, Carl Beam, Shelley Niro, Daphne Odjig and Christi Belcourt. Bonnie Devine, Toronto-based artist and member of the Serpent River First Nation will also be present to speak about her installation, Battle for the Woodlands.
The ACC-CCA would like to thank Lisa Myers, Wanda Nanibush, Bonnie Devine, and a special acknowledgement to the Art Gallery of Ontario for their collaboration in this event.
Schedule:
10:30 AM - 11:00 AM Opening prayer by Pauline Shirt / Welcome
11:00 AM - 1:00 PM Honouring ACC founders and Talking circle led by ACC
01:00 PM - 2:00 PM Participatory project and feast with Lisa Myers
02:00 PM - 4:00 PM 2015 Annual General Meeting
04:00 PM - 5:00 PM Canadian Galleries tour with Wanda Nanibush and presentation by Bonnie Devine
Note** The by-laws were sent out by electronic transmission on August 22nd to all current members of the ACC. If you did not receive these, then we do not have your current membership information. If you would like to renew your membership or become a member (it's free!) please consult the link below:
http://www.aboriginalcuratorialcollective.org/about/membership/membership-application/
Organizer of Aboriginal Curatorial Collective Celebration and 2015 Annual General Meeting
Celebrating 10 years of Indigenous creativity! Support the Aboriginal Curatorial Collective and activate Indigenous creative sovereignty. Formed in 2006 by a small group of Indigenous curators and artists, the ACC is a national arts service organization that promotes and advocates on behalf of Indigenous curators and artists.
Web site: www.acc-cca.com