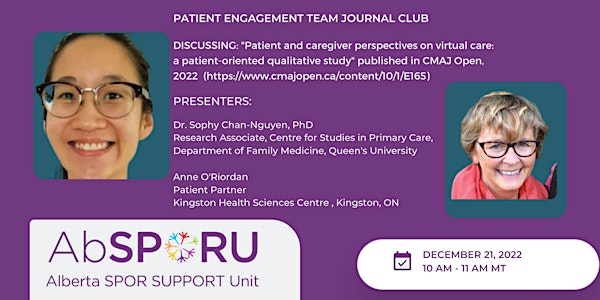 AbSPORU Patient Engagement Journal Club
Alberta SPOR Support Unit Patient Engagement Journal Club
About this event
The Alberta SPOR Support Unit's Patient Engagement Team is hosting virtual Patient Engagement Journal Club Meetings.
Now you can register for all our Journal Club meetings with the same Eventbrite registration link. Speakers and articles will be updated once we finalize them, so keep visiting this page to stay updated.
DECEMBER JOURNAL CLUB
December 21, 2022; 10:00 -11:00 AM (MST)
ARTICLE to be discussed:
Article : Patient and caregiver perspectives on virtual care: a patient-oriented qualitative study" published in CMAJ Open, 2022
Download here:
https://www.cmajopen.ca/content/10/1/E165
PRESENTERS:
1. Dr. Sophy Chan-Nguyen, PhD
Research Associate, Centre for Studies in Primary Care,
Department of Family Medicine, Queen's University
2. Anne O'Riordan
Patient Partner
Kingston Health Sciences Centre, Kingston, ON
Register to receive the Zoom link to join this meeting !!!
Questions about the event can be directed to : Sadia Ahmed (sadahmed@ucalgary.ca)
We welcome researchers, students, patients, and general public ! We are looking forward to seeing many of you there!