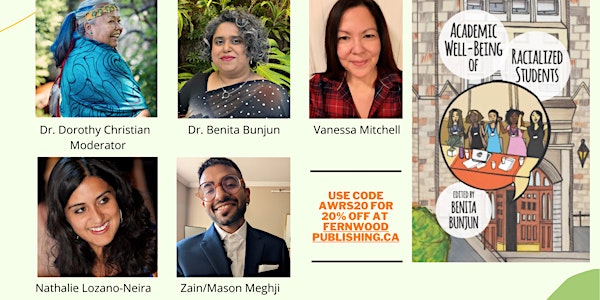 Academic Well-Being of Racialized Students Book Launch August 30th, 2022
Join us for a panel discussion to celebrate the launch of the Academic Well-Being of Racialized Students
About this event
Simon Fraser University (SFU) Graduate and Postdoctoral Studies, SFU Department of Sociology and Anthropology, and Fernwood Publishing in collaboration with Vancouver Status of Women and the Racialized Students Academic Network present the Book Launch of Academic Well-Being of Racialized Students edited by Dr. Benita Bunjun. This collection features academic chapters, spoken word, and art by 15 contributors including alumni and students from Coast Salish, Okanagan and Mi'kmaq Territories.
Join us for a panel discussion with contributors Dr. Benita Bunjun, Vanessa Mitchell, Zain/Mason Meghji, Nathalie Lozano-Neira, and Dr. Dorothy Christian as moderator.
Fernwood Publishing is offering 20% off on all formats of the Academic Well-Being of Racialized Students edited by Dr. Benita Bunjun. Use code AWRS20 to order at https://fernwoodpublishing.ca/book/academic-well-being-of-racialized-students. The code is valid from now until Oct 31st, 2022.
BIOGRAPHIES
MODERATOR
Dr. Dorothy Cucw-la7 Christian is of the Secwepemc and Syilx Nations from the interior plateau regions of BC. Her home community of Splatsin, is one of 17 communities that according to the federal government comprises the Secwepemc Nation. In Secwepemc oral history, there are 32 known communities. Christian is the eldest of 10, has one daughter and over 65 nieces, nephews, great nieces and nephews and one great, great niece. Dr. Christian currently serves in the Department of Graduate & Postdoctoral Studies at Simon Fraser University as the Associate Director of Indigenous Policy & Pedagogy. Her research and work in academia consistently centralizes Indigenous knowledge long before those terms became the latest buzz words in the academy. She sits on the SFU Advisory for Equity, Diversity and Inclusion. Dorothy continues to be involved in the Indigenous cultural industries. She is a Board member of the national Indigenous Screen Office organization and on the Advisory for the Indigenous Digital Accelerator Program at Capilano University. Recently, she has worked with the Women in the Director's Chair organization on their equity, diversity & inclusion training. Dorothy is cultural consultant on two TV series that are in development.
PANELISTS
Dr. Benita Bunjun is an Associate Professor in the Department of Social Justice and Community Studies, and Women and Gender Studies in Kjipuktuk, Mi'kma'ki (Halifax, Nova Scotia). She is currently a Visiting Faculty at Simon Fraser University in the Department of Sociology & Anthropology. Her research examines organizational and institutional power relations with a focus on colonial encounters and nation building within academic spaces and workplaces. Dr. Bunjun's current research, The Presence of Racialized Mauritian Immigrant Health Care Workers at Riverview Hospital, examines the intersections of immigration, racialization of labour, mental health providers, psychiatric institutions/organizations and the nation-state. She received her PhD in Interdisciplinary Studies at the University of British Columbia (UBC) on Coast Salish Territories and completed a postdoctoral fellowship at Simon Fraser University with the Centre for Gender, Social Inequities and Mental Health. She is the past President of the Canadian Research Institute for the Advancement of Women (CRIAW) and contributed significantly to the Centre for Race, Autobiography, Gender and Age (RAGA) at UBC. Dr. Bunjun has published in various journals including Journal of Management Education, Education as Change, and International Journal of Organizational Diversity. She is the editor of Academic Well-Being of Racialized Students (2021 – Fernwood Publishing) centering academic well-being and transnational kinship relations. She is currently the Faculty Coordinator for The Racialized Students Academic Network (RSAN) and works with racialized students and international students at various universities to promote their scholarship, well-being, and self-advocacy in the areas of academia, tenancy, and mental health.
Vanessa Mitchell is an Okanagan/Syilx woman whose MA graduate research from UBC focused on situating cultural safety to place through a Syilx analytical framework using Indigenous methodology. She developed and now manages Journey to Aboriginal Cultural Safety and Humility Program at Interior Health. Vanessa advocates for meaningful ways to address the immense inequities that Indigenous Peoples experience. She begins her PhD this fall at the University of Northern BC.
Zain/Mason Meghji has a Bachelor of Social Work from Nicola Valley Institute of Technology. He identifies as a proud transgender man, Ismaili Muslim and living with chronic illness. Currently living on unceded Coast Salish territories, he has been writing since he could hold a pen. Zain/Mason uses poetry to reflect on his daily life and strongly believes that poetry is a form of transformative social justice. He loves painting and baking and is passionate about community organizing and healing. Zain/Mason is a passionate child and youth care worker who is also a dog papa to a lovely rescue dog named Milo.
Nathalie Lozano-Neira came as a refugee 22 years ago to Musqueam, Tsleil-Waututh and Squamish territories. She has been engaged in migrant justice work as a facilitator, youth worker, and community member. Nathalie completed her MA in Gender, Sexuality, and Women's Studies at Simon Fraser University where she focused on the well-being of racialized community workers and settler-Indigenous relationships and will begin her PhD at the Social Justice Institute at UBC this fall.
All royalties from this book will be donated to the Racialized Students Academic Network.
The Racialized Students Academic Network (RSAN) - is an independent autonomous network of/for Indigenous and Black students/alumni and students/alumni of colour in Kjipuktuk, Mi'kma'ki. The Network is a gathering space to centre Indigenous, Black and critical race feminist scholarship, knowledge systems, methodologies and scholars - which are predominately marginalized and omitted in everyday classes, research, pedagogy and graduate supervision. Such a critical and rare academic space ensures that students further develop their own theoretical vision based on intersecting identities, histories, and struggles while promoting their overall academic well-being individually and collectively. The Network aims to specifically decrease isolation by networking and sharing information/resources while also supporting each other to remain focused on our courses, research and completing our degrees. RSAN coordinates the yearly conference in Mi'kma'ki, The Critical Indigenous, Race, and Feminist Studies Student Conference.