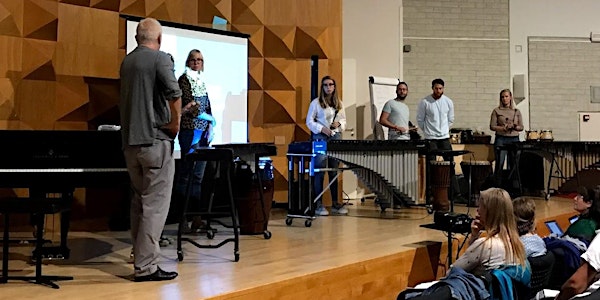 Academy of Neurologic Music Therapy International Symposium 2022
Academy of Neurologic Music Therapy 1st International Clinical Consensus Symposium 2022 - November 18-19th, 2022
Refund Policy
Contact the organizer to request a refund.
Eventbrite's fee is nonrefundable.
About this event
THE ACADEMY OF NEUROLOGIC MUSIC THERAPY 1st INTERNATIONAL CLINICAL CONSENSUS SYMPOSIUM
(Online/Hybrid Synchronous/Asynchronous)
Friday November 18, 2022 to Saturday November 19, 2022
In response to financial and other pandemic related hardships and in an effort to support the Academy mission to disseminate and advance the worldwide practice of NMT, the Academy invites you to a 10-hour (12 CMTEs) professional development Clinical Consensus Forum to be held Nov. 18-19, 2022. This symposium will provide 10 hours of meaningful high quality professional enrichment at a low cost to NMT Affiliates, allowing them to achieve their continued professional development requirements. This symposium will begin at 18:00 PM Eastern Standard Time on Friday and ends at 19:00 on Saturday. Completion of the symposium will give you 10 Professional Development credits toward your NMT Affiliation and 12 CMTE credits that can be applied towards your Certification Board for Music Therapy (CBMT) recertification. Sessions will be recorded and made accessible to conference attendees allowing accessibility to everyone across time zones. This training is open to all current Affiliates of the Academy of Neurologic Music Therapy.
SYMPOSIUM SCHEDULE
(All times are American Eastern Standard Time)
Friday, November 18, 2022
17:30-18:00 Registration
18:00-18:30 Opening Session
18:30-19:30 Keynote Address
19:30-20:30 Focused Forums* (listed below)
*When registering all participants will be required to choose one focused forum to attend live
Saturday, November 19, 2022
8:15-8:45 Registration
8:45-9:45 Focused Forums* (listed below)
9:45-10:00 Break
10:00-11:30 Concurrent Sessions:
TBI/Stroke Neurorehabilitation
ASD and Neurodevelopmental Disorders
Aging/Dementia/Long-term Care
11:30-11:45 Break
11:45-13:15 Concurrent Sessions:
NMT and Psych
Student Session-Clinical Singing Voice
Interdisciplinary NMT Teams
13:15-14:00 Break
14:00-15:30 Voice Assessment and Functional Exercises
15:30-15:45 Break
15:45-16:45 Ethics around NMT
16:45-17:00 Break
17:00-18:30 The Future of Telehealth: Research, Education, Business Models, Clinical Work
18:30-19:00 Wrap Up
*When registering all participants will be required to choose one focused forum to attend live
Focused Forums:
Educators/Clinical Supervisors
Business owners
Neuro Rehab
Graduate Students
Aging/Older Adult/Gerontology
Critical Care
Mental Health
Pediatrics
General Hospital Setting
Special Education/ASD/DD
The Academy is approved by the U.S.Certification Board for Music Therapists (CBMT) as an advanced provider for Continuing Music Therapy Education (CMTE) credits [The Robert F. Unkefer Academy for Neurologic Music Therapy, #P-105, maintains responsibility for program quality and adherence to CBMT policies and criteria].
This 10-hour Symposium will provide the NMT Affiliate with 10 professional development credits (60 mins=1hr) that can be applied toward their Academy Affiliation and 12 CMTE credits (50 mins=1 hr)that can be applied towards CBMT recertification. The certificate of completion received following the Symposium can be submitted as proof of your attendance and participation.
For questions, please contact Kim Albanowski at nmt@nmtacademy.co