Refund policy
Contact the organizer to request a refund.
Eventbrite's fee is nonrefundable.
Stepping into the Next Normal with Confidence! Join us online or in person to create a roadmap for success in your business.
About this event
The symposium is designed to amplify your network with our hands on workshops!
You want to do business. You need access to capital and you're trying to navigate in these uncertain times. ACBN Canada is excited to provide some solutions through our valuable workshops at our annual ACBN Legacy Symposium 2022!
We're here to get entrepreneurs positioned to "Become Investment Ready" and "Stepping into the Next Normal with Confidence!"
Thursday February 24
09:00am - Welcome note from ACBN
09:05am - Supporting words from Government
- Ruby Sahota: MP Brampton North
- Steve Anderson: Deputy Mayor of Shelbourne
09:15am - Keynote: Dr. George Fraser
Dr. Fraser has insisted for 40 years there be no "Sizzle Reel" of his life's work and purpose until there was something to "quantify" and "sizzle" about…
He was born in 1945 in Brooklyn, NY to a troubled family of 11 children. After serious mental health issues with his Mom, at 2 years old he and 6 of his siblings were orphaned, then put into toxic foster homes for a total of 16 years. He was not considered to be college material, so he was sent to a vocational high school and got a diploma in carpentry…the rest is history.
Dr. Fraser has ALWAYS believed: "It's not how you start, it's how you finish, that God has great plans for each of us, we must simply listen for his voice, follow directions, overcome the obstacles, and stay course.
Dr. Fraser's favorite line from Super Rapper DRAKE; "Started from the bottom now we're here!"
Here is 75 years of life in 120 seconds
10:00 am - How to build confidence in your business model
Facilitator: Unika Hypolite from CINTA & Co.
12:00pm - Lunch Break
12:25pm - Ecosystem Partner Presentation
1:00pm - Fine Tuning your Target market and Value Proposition
Facilitator: Suresh Parmachan CMO of Trend Hunter
3:00pm - Closing Remarks
Speaker: Nicola Harris - Afro Caribbean Business Network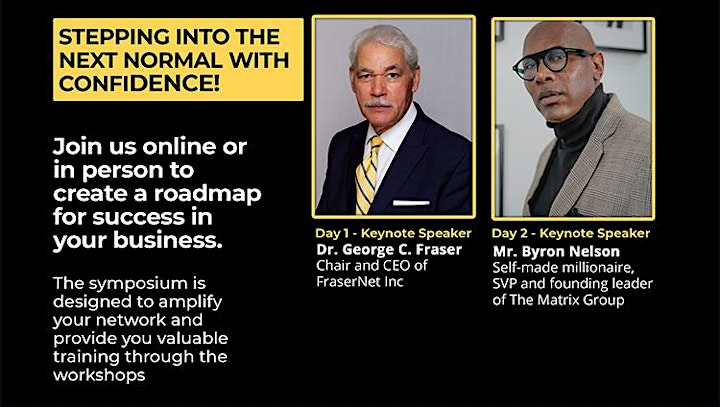 Friday February 25
09:00am - Welcome note from ACBN
09:15am - Keynote: Mr. Byron Nelson
Byron Nelson, Founder of The Matrix Group, is a world-renowned wealth coach, business advisor and highly sought after inspirational speaker.
Over the last two decades, this self-made multimillionaire and servant leader has dedicated his life to helping others create wealth. He has educated and mentored thousands of people around the world, helped create over 100 millionaires on his team alone, put 200 students through college out of his own pocket and it looks like he is just getting started.
Byron has built a massive global organization where his business has extended into countries such as Europe, Canada, Australia, New Zealand, and the United States. Currently, he is building a new wave of leadership for those who truly are ready to change their financial future by teaching the importance of financial literacy, human equity and relationship currencies. His message of finishing what you start is his legacy and contribution to the world.
10:00 am - Confidence in your Finances
Facilitator: Andre Smith
Founder of Flip and Floss Financial Literacy Training
12:00pm - Lunch Break and Networking
12:25pm - Ecosystem Partner Presentation
12:30pm - Alterna Savings Microloan Presentation
12:45pm - Networking
1:00pm - Leading your team to success
Facilitator: Nicola Harris - Centre for Strategic Impact
3:00pm - Closing Remarks
Speaker: Ryan Knight - Afro Caribbean Business Network