Accelerating your Enterprise Content Services Strategy - AIIM breakfast mee...
Description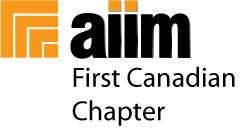 AIIM First Canadian Chapter is excited to welcome Jason Bero, an ECM veteran, and information governance specialist to showcase features in SharePoint 2016 that empower organizations to automate classification of content, ensure information protection, and prevent data loss.
With cloud and hybrid technologies and principles being introduced into the workforce at an increasing rate, the concepts of Enterprise Content Management have changed to more of an Enterprise Content Services strategy. That is, how do I not only ensure that content is classified in the right manner but also how do I protect those assets from data loss, ensure the proper access points by the user, and ensure the content is disposed of regardless of location.
In this session, we will walk through the principles and tools that Microsoft have introduced to aid in this advancement while maintaining control of content even after it has left your own perimeter. Demonstrations will be given with focus on familiar tools such as SharePoint coupled with newly added functionality to aid in the advancements of classification, preservation, protection, and eventual disposal of assets within and outside the perimeter or domain.
Our speaker: Jason Bero, Microsoft Canada
Jason Bero is a technology solutions professional currently employed with Microsoft Canada. He has spent the last 20+ years in the field of application development and enterprise content management working with such solutions and/or products as Microsoft SharePoint, IBM Lotus Notes/Domino, and OpenText. He has worked with numerous small to large enterprise clients developing file plans, origination to disposition strategies, and the implementation of enterprise wide content management solutions.