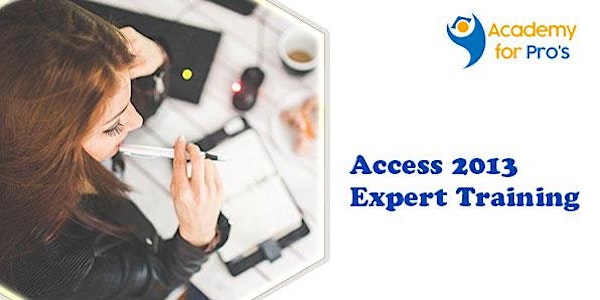 Access 2013 Expert Training in Hong Kong
Our classroom training provides you the opportunity to interact with instructors and benefit from face-to-face instruction.
Date and time
Monday, December 19, 2022 · 9am - 5pm HKT
Location
For venue details reach us at: info@academyforpros.com Hong Kong, NT Hong Kong
Refund Policy
Refunds up to 7 days before event
About this event
Certificate: Course Completion Certificate Language: English
Duration: 1 Day Credits: 8
Course Delivery: Classroom/ Virtual Live/ On-Site
Course Overview:
This workshop is designed to teach you a deeper understanding of Access 2013 in a practical way. This workshop is designed for the advanced users of Access 2013. This workshop incorporates a hands-on approach to learning. They will get a chance to practice some of the advanced features right on a computer.
This workshop is meant to provide a safe learning environment where they can practice and learn Access 2013 Expert functions without worrying about making mistakes. Access 2013 features a new framework that is designed for one purpose―enable users to create data-centric web applications. Taking the time to develop a deep understanding of Access 2013 will increase their knowledge on how databases work and make creating and managing an Access 2013 database easier for everyone.
Target Audience:
Anybody who is interested in learning Access 2013 Expert Skills
Learning Objectives:
After completing this course, Individuals will be able to demonstrate their understanding of:
Customizing Apps
Working with Validation Rules and Messages
Working with Macros
Advanced Query Tasks
Designing Forms
Advanced Reporting Tasks
Advanced Database Tools
Working with the Access Environment
Prerequisites:
None
Course Materials:
Students will receive a course manual with presentation slides and reference materials.
Technical Requirements:
For eBooks:
Internet for downloading the eBook
Laptop, tablet, Smartphone, eReader (No Kindle)
Adobe DRM supported software (e.g. Digital Editions, Bluefire Reader)
eBook download and activation instructions
Agenda:
Module One: Customizing Apps (I)
Creating a Custom App from Scratch
Adding a Template Table Adding a Blank Table
Importing Access 2010 Tables
Module One: Review Questions
Module Two: Customizing Apps (II)
About Custom Actions
Adding a Custom Action
Editing a Custom Action
Deleting a Custom Action
Module Two: Review Questions
Module Three: Customizing Apps (III)
About User Interface Macros
Creating an Embedded Macro
Creating a Standalone macro
Saving Your App as a Package
Module Three: Review Questions
Module Four: Working with Validation Rules and Messages
Creating a Field Validation Rule
Creating a Field Validation Message
Creating a Validation Rule
Creating a Validation Message
Testing Validation Rules
Module Four: Review Questions
Module Five: Working with Macros
Creating a Before Change Event
Working with the Macro Tools Design Tab
Working with the Action Catalog
Creating an After Event
Creating a Named Macro
Renaming or Deleting Macros
Module Five: Review Questions
Module Six: Advanced Query Tasks
Using Query Design View
Creating Ad Hoc Relationships
Creating an Update Query
Creating a Parameter Query
Comparing Two Tables by Using a Join
Module Six: Review Questions
Module Seven: Designing Forms
Common Formatting Tasks
Using Themes
Working with Controls
Adding Header and Footer Elements
Arranging Form Elements
Formatting Forms
Module Seven: Review Questions
Module Eight: Advanced Reporting Tasks
Using Report Sections
Using Conditional Formatting
Grouping and Sorting Data
Adding Calculated Controls
Creating Labels
Module Eight: Review questions
Module Nine: Advanced Database Tools
Using the Database Documenter
Analyzing Table Performance
Analyzing Database Performance
Repairing a Database
Compacting a Database
Module Nine: Review Questions
Module Ten: Working with the Access Environment
Working with Database Properties
Encrypting a Database with a Password
Using Save Object As
Setting Access Options
Module Ten: Review Questions
Module Eleven: Wrapping Up
Words from the Wise
Review of Parking Lot
Note:
However, catering to the demands of busy professionals, our virtual training programs are as effective as face-to-face learning. Reach us at info@academyforpros.com for dates and details of Instructor Led Live Virtual Session.
If you would like to get this course customized and delivered exclusively for your group, we have an On-Site Training Option you can reach us at info@academyforpros.com for more details about on-site or corporate training.
Offers:
Groups of 3 people 10% Discount
Groups of 5 people 15% Discount
Groups of 10 people 20% Discount
About the organizer
We deliver training solutions to Corporate, Government Agencies, Public sectors, Multinational organizations and Private Individuals. Our Primary focus is to train in a wide range of areas from IT Technical, Personal Development, Human Resources and Management Courses to Project, Program and IT Service Management.
We have most experienced trainers in the Industry. Our Trainers are highly skilled in their subject areas and are uniquely positioned to provide participants with deep industry experience. They are motivated to transfer knowledge through practical support post and pre-training to provide participants with additional support outside the classroom.