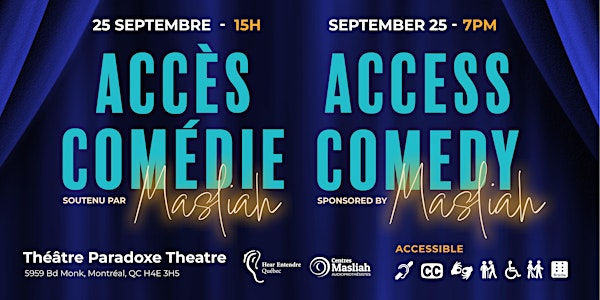 Access Comedy Sponsored by Masliah - Accès Comédie Soutenu Par Masliah
Join us for an evening of fun at the most anticipated event of the year! This will be a night filled with laughter, drinks and good times!
When and where
Location
Théâtre Paradoxe 5959 Boulevard Monk Montréal, QC H4E 3H5 Canada
About this event
Version française ci-dessous
We are very excited to announce our 3rd Annual fully accessible comedy show fundraiser. This is the heart and soul of what Hear Entendre Quebec stands for; creating awareness within an inclusive environment so that everyone with disabilities is included in the have fun! 18+
Our French show will be hosted by the renowned comedian and Youtuber, Preach, a hilarious Montrealer who is destined for stardom. Our English show will be hosted by Hear Entendre Quebec's very own Abby Stonehouse. We are thrilled to announce this stellar line-up for the English show:
Erich Preach
Darren Henwood
Pantelis
Mike Meo
Michelle Dominique
Dana Saleh
We are dedicated to making you laugh while providing many accessibility measures:
For individuals who are hard of hearing or self identify as d/Deaf:
- FM Systems
- T-Loop
- Closed Captioning
- ASL / LSQ Interpreters
For individuals with low vision:
- Sighted Guides
- Braille Tickets and programs on request
- Captioning in colors
- Environment will be clear of clutter and maintain safe passages in alleys
For individuals with limited mobility or wheelchair users:
- Accessible bathrooms and bar
- Coat check and no hanging items off chairs
- Designated seating space
When: 7pm -8:30 pm, September 25th
Where: At the beautiful Paradoxe Theatre, 5959 Blvd Monk.
------------
Joignez-vous à nous pour une soirée amusante lors de l'événement le plus attendu de l'année! Ce sera une soirée remplie de rires, de boissons et de bons moments! 18+
Nous sommes très heureux d'annoncer notre 3e collecte de fonds annuelle sous la forme d'une spectacle d'humour entièrement accessible. C'est le cœur et l'âme de ce que représente Hear Québec; créer une prise de conscience dans un environnement inclusif afin que toutes les personnes handicapées soient incluses dans le programme!
Notre représentation en français sera animée par le comédien et youtuber de renom, Preach, un Montréalais hilarant qui est destiné à la célébrité. Notre émission en anglais sera animée par nul autre que notre Abby Stonehouse d'Entendre Québec. Nous sommes ravis d'annoncer ce programme exceptionnel pour le salon français :
Pantelis
Rachelle Elie
Bruno Ly
Nic Audet
Maxime Gagnon
Nous nous engageons à vous faire rire tout en vous offrant de nombreuses mesures d'accessibilité:
Pour les personnes malentendantes ou qui s'identifient comme s/Sourdes:
-Systemes FM
-Boucle en T
-Sous-titrage
-Interpret ASL/LSQ
Pour les personnes malvoyantes:
-Guides voyantes
-Billets et programmes en braille sur demande
-Sous-titrage en couleurs
-L'environnement sera dégagé de tout désordre et maintiendra des passages sécuritaires dans les allées
Pour les personnes à mobilité réduite ou en fauteuil roulant:
-Salles de bains et bar accessibles
-Vestiaire et aucun objets suspendus aux chaises
-Places assises désignées
Quand: le 25 septembre, 15h à 16h30
Où: Au magnifique Théâtre Paradoxe 5959 Bd Monk.