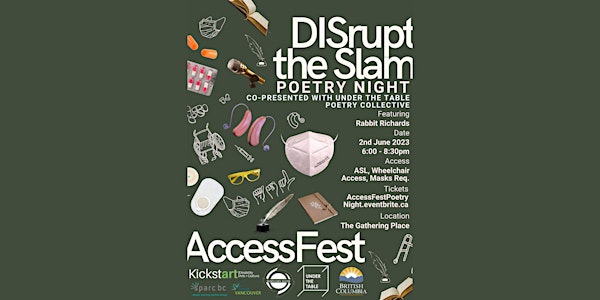 AccessFest: Poetry Night featuring Rabbit Richards
Join Kickstart and Under The Table in celebration of AccessFest 2023 with an evening of poetry, featuring Rabbit Richards.
By Kickstart Disability Arts & Culture
Date and time
Fri, Jun 2, 2023 6:00 PM - 8:30 PM PDT
Location
The Gathering Place 609 Helmcken Street Vancouver, BC V6B 5R1 Canada
About this event
2 hours 30 minutes

Mobile eTicket
Co-presented by Under The Table Poetry, this poetry open mic night will DISRupt you in all of the most exciting ways inviting you into the queered and cripped world of poetry nights run by and for our communities. With host mitcholos and feature poet Rabbit Richards, be prepared to witness some world changing magic on stage. Sign up for the open mic and remember to bring a physical or electronic copy of your poem to provide to the ASL interpreters.
Access Information
Masks required
Food provided
Wheelchair accessible
ASL interpretation provided
If you have any questions regarding access, please send an email to hello@kickstartdisability.ca
To learn more about ACCESSFest and other free events visit: www.kickstartdisability.ca/accessfest
About Under The Table:
Under the Table is an open mic series centering disabled and/or queer poets. This series was dreamed up out of a desire to share work, experience art, and connect with community in a covid safer, more accessible, and anti-oppressive space. Partnering with Massy Voices and Kickstart Disability Arts & Culture, Under the Table Open Mic Series will be on the first Tuesday of each month with some events in person at Massy Arts Society and others virtually on zoom.
Under the Table is a space where the richness that is queer and disabled life and art, flourishes and finds a home. It's a space to share work that's asking to be told, but might not be welcomed in other spaces, if you are able to access those spaces at all. It's a space where being queer and/or disabled (whether or not those specific words resonate for you) makes your work a brilliant fit, regardless of how queer or disabled you think the poetry you wish to share is, how connected you are to disabled and/or queer community, and whether you feel disabled and/or queer "enough" to participate. It's a space to witness and engage with the work of incredible artists, anywhere on their path of sharing their work–from the person who has never shared in front of an audience, to artists who have read or performed work many times. It's a space where there's room to be scared, and choose to be in community, share, and engage with others' work. It's a space where we don't claim to know all the answers, but are willing to be in the messy, nuanced space of learning together. Come to "Under the Table" to laugh, cry, celebrate, sit in discomfort, feel understood, and be together.
This project has been made possible by the Government of Canada, The League of Canadian Poets, and the Canada Council for the Arts. Ce projet a été rendu possible grâce au gouvernement du Canada.
About the Feature and Host:
Rabbit Richards was born on occupied Lenni Lenape territory in Brooklyn NY. Their people have never rooted for more than one generation anywhere for as long as their history can trace. Their father's family claims Kyiv and Minsk; their mother's family remembers St Thomas and St Croix, islands of the Carib, Arawak and Ciboney. Rabbit is learning how to exist on stolen land in a marginalized body. Relentlessly compassionate with fierce integrity. Rabbit is passionate about anti-oppression and accessibility work and is deeply invested in the conversations that are provoked by their art. Currently they serve as Systems Change Coordinator at PACE Society on k'emk'emeláy, commonly known as the downtown eastside of Vancouver BC, where they focus on harm reduction within community care.
łapḥsp̓at̓unakʔi łim̓aqsti aka mitcholos (they/ them/ theirs) is a alienative queer and disabled poet. in 2017 they completed the spoken word program at banff centre for arts and creativity. in the same year was featured as a 'rising voice' poet of honor at the canadian festival of spoken word. at cfsw 2018, mitcholos made it onto the vanslam team alongside other competing poets: kay kassirer, rabbit richards, and jaye simpson; and coached by the poet yes. they entered the national poetry slam competition, making it past prelims to be finalists, ultimately placing third in the country. mitcholos is a born indian (under the indian act of canada) and is a foster care child of non-native familys. mitcholos is also alienative: indigenous but still displaced to where they are not native. uninvited, they work in solidarity with indigenous peoples: the xʷməθkʷəy̓əm, the sḵwx̱wú7mesh, and the səl̓ilwətaɁɬ. mitcholos acknowledges where they live as unceded territorys, that since time immemorial and forever more this is the lands and cultural centres of three distinct peoples. mitcholos is yuułuʔiłʔatḥ, and a member of the maa-nulth treaty of 2011, and is always and forever nuučaan̓uł
About the organizer
Founded in 1998, Kickstart Disability Arts and Culture is a multidisciplinary professional Disability Arts non-profit committed to showcasing the artistic excellence of artists working within the field of Disability Arts and Culture and supporting disabled artists in BC and across Canada as they continue to push the boundaries of what Disability Arts and Culture can do in this world. Kickstart is rooted in the history of Disability Arts and Culture as being tied to a community and cultural movement, and has prioritized supporting the arts and cultural practices of artists who exist at multiple axes of intersecting oppressions. As an arts organization founded and run by disabled artists for disabled artists, having artistic and administrative leadership who identify as disabled, ensures that decision making is driven by people from within the community it serves. Such a model has provided an example within the field of arts and culture, in that Kickstart both started and continues as an organization that is run 'for us/by us'; rather than simply providing programming for marginalized communities.
In order to promote the development of Disability Arts and Culture, Kickstart is led by disabled Arts administrators; programs, presents, and works with artists who not only identify as disabled but also develop aesthetic markers linked to the canon of Disability Arts and Culture, and centers accessibility in complex and intersectional ways that make it possible for disabled people to take up the role of professional artists, curators, as well as art audiences.
For more information visit: kickstartdisability.ca