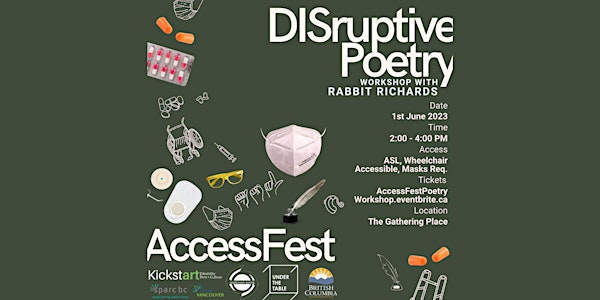 AccessFest: Poetry Workshop with Rabbit Richards
Join Rabbit Richards for a poetry workshop as part of AccessFest 2023!
By Kickstart Disability Arts & Culture
Date and time
Thu, Jun 1, 2023 2:00 PM - 4:00 PM PDT
Location
The Gathering Place 609 Helmcken Street Vancouver, BC V6B 5R1 Canada
About this event
Workshop Info:
Soft Truth: Working Safely with Trauma in Writing and Performance
This workshop is for all skill levels.
Participants may wish to bring a piece of started work, or may choose to write one here. Many people find that some sort of writing practice helps them to deal with traumatic events. How can we do this without hurting ourselves more? And if we write to perform, how can we also take good care of our audience? 
Thoughtful questions and discussion with time for participants to consider their own work.
Access Information
Masks required
Wheelchair accessible
ASL interpretation provided
If you have any questions regarding access, please send an email to hello@kickstartdisability.ca
To learn more about ACCESSFest and other free events visit: www.kickstartdisability.ca/accessfest
About the organizer
Founded in 1998, Kickstart Disability Arts and Culture is a multidisciplinary professional Disability Arts non-profit committed to showcasing the artistic excellence of artists working within the field of Disability Arts and Culture and supporting disabled artists in BC and across Canada as they continue to push the boundaries of what Disability Arts and Culture can do in this world. Kickstart is rooted in the history of Disability Arts and Culture as being tied to a community and cultural movement, and has prioritized supporting the arts and cultural practices of artists who exist at multiple axes of intersecting oppressions. As an arts organization founded and run by disabled artists for disabled artists, having artistic and administrative leadership who identify as disabled, ensures that decision making is driven by people from within the community it serves. Such a model has provided an example within the field of arts and culture, in that Kickstart both started and continues as an organization that is run 'for us/by us'; rather than simply providing programming for marginalized communities.
In order to promote the development of Disability Arts and Culture, Kickstart is led by disabled Arts administrators; programs, presents, and works with artists who not only identify as disabled but also develop aesthetic markers linked to the canon of Disability Arts and Culture, and centers accessibility in complex and intersectional ways that make it possible for disabled people to take up the role of professional artists, curators, as well as art audiences.
For more information visit: kickstartdisability.ca