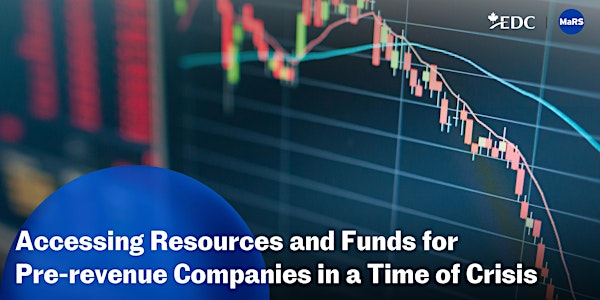 Accessing resources and funds for pre-revenue companies in a time of crisis
Learn about tactics and best practices for weathering difficult times.
About this event
This April 24, MaRS and Export Development Canada (EDC) invite you to a special webinar featuring experts from Fundingportal, the National Research Council-Industrial Research Assistance Program (NRC-IRAP), and Ontario Centres of Excellence (OCE). They'll unpack how to stay afloat in the current crisis, as well as outline tactical steps and best practices for landing resources and funds. Topics to be discussed include:
Options available for pre-revenue companies;
Tactics and best practices for writing a winning grant application;
How to inform your mitigation tactics against churn; and
Practical and speedy ways to stay afloat.
Much of the webinar will be a Q&A format, so please come prepared to engage in a lively discussion.
DETAILS
April 24, 2020
11:00 a.m.–12:00 p.m.
Zoom meeting
WHO SHOULD ATTEND
Leaders from pre-revenue companies
SPEAKERS

Karen Fournier, COO of Fundingportal
Karen works with hundreds of companies in the advanced R&D sector, helping them land funding and grow for success. A member of Fundingportal's founding team, she was previously a parliamentary reporter in Ottawa and a weekly columnist for the Financial Post. Karen holds an MBA from the John Molson School of Business.

Dr. Velko Tzolov, NRC-IRAP regional director, Ottawa
Velko is a leading industrial technology advisor and business officer. He holds a PhD in physics and a master's degree in engineering physics from Sofia University (Bulgaria), as well as an MBA from the Telfer School of Management. Velko is also an adjunct professor at the Sprott School of Business.

Kyle McCall, business development and commercialization manager, OCE
Kyle has spent the last 7 years working with startups across Ontario. Formerly the Manager of NORCAT Innovation, Greater Sudbury's Regional Innovation Centre, and a member of the Canadian Digital Media Network's advisory board, he made the jump to OCE in 2019 and continues to support innovative technology companies, connecting them to the people and resources they need to grow and scale their business.