Sales Have Ended
Ticket sales have ended
Thank you for your interest in our event. If you would like to purchase the replays from the weekend send your request to info@francodenicola.com.
Sales Have Ended
Ticket sales have ended
Thank you for your interest in our event. If you would like to purchase the replays from the weekend send your request to info@francodenicola.com.
Description
Do you want to awaken your own power to transform any area of your life?
This August 25th to 27th Franco DeNicola and Sifu James Foo will be joining forces to bring you a very powerful workshop in a Retreat setting to access the next level of release to get past our human programs and better master our lives!
Franco and Sifu James will be sharing insights, leading us through the latest life changing processes and giving us some very effective tools that will shift how we perceive our life so we can continue to move forward.
This workshop will be held at the lovely Ecology Retreat Centre in Hockley Valley nestled within 200 hundred acres of natural beauty! This peaceful retreat centre provides the guests with the pleasant atmosphere of a winding stream and forested walking trails.
Some of the things Franco and Sifu James will cover include:
An effective process of transmuting our past

What is a program?

Recognizing our own programs and the different levels of them

The freedom that comes from releasing programs

How far can we go without programs?

Taking us to 5D consciousness – Love, Joy, Intuition and The Knowing

What is your Soul Blueprint?

Why do we need to redesign and retune our Soul blueprint

Accessing a very high energy field to redesign and retune your Soul Blueprint

The physical experience and the baggage it carries

The Entity component

The Ego Mind

The Soul

Looking at clearing more effectively without dragging up all the details of past experiences

The different levels of clearing physical, ego memory, entity memory and genetic codes

Repairing deeply rooted distortions while unleashing your super senses – Intuition, Imagination and knowing

Plus much more…
This will be an exciting adventure of growth and expansion with other like-minded people!
Each workshop has the latest information and processes; they are updated right up to the time of the workshop and during. It is fine tuned to meet the requirements of the individuals attending and for the collective. The energies of the different processes are the most current and most powerful that can be accessed at that time.
Do not miss out on this next level of transformation. You can attend in person or join us online via Live Streaming, which allows you to be with us from the comfort of your home while also receiving all the content, the transmitted energies and take away tools and processes. Replays will be made available to repeat the experience and to access anything that was missed.
If you would like to join us in person there are several packages available, depending on your needs and desired experience. The inclusive package will include the full retreat experience; take away tools and processes, exposure to higher and grounding energies, opportunities to connect with others on a similar journey, as well as connect with the soothing and beneficial energies of nature. This package includes accommodations, all meals, and snacks. (The menu will be vegetarian)
Space is limited to attend live, therefore, do not hesitate to register. Take advantage of our Early Bird discount available until August 6th at midnight EST.
* Check-in time Friday will be at 4:00 pm followed by dinner at 6:30. Franco & James will start the weekend off at 8:00 pm with a welcome talk and meditation!
* Saturday we will be starting with breakfast at 8:00 am, the workshop beginning at 9:00 am and ending around 9:00 pm.
* Sunday we will be starting with breakfast at 8:00 am, the workshop beginning at 9:00 am and ending at 5:00 pm.
We look forward to having you be part of this opportunity to transform our human experience and world together!
Much love,
Franco, Kimberly & Sifu James Foo
About Sifu James Foo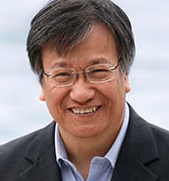 James Foo has been involved in energy work and alternative healing for over 20 years. He is a highly sought-after Qi Gong and Feng Shui Master who conducts Feng Shui audits for businesses and individuals in Canada, London, UK and occasionally in Hong Kong and Shanghai, China. James has also assisted many clients to heal their bodies with his Chi-Matic Healing modality.
James was born with the capacity to see energy and how it moves. He was trained by Allen Wright, a psychic on the art of communication with the spirit world. As a result of this sensitivity, he developed an understanding of how to re-balance the chi in our organs to recover from sickness and improve our health. He also teaches people to see auras and do remote healing and devotes much of his time developing the Chi-Matic Healing modality. In these classes, he teaches about energy (called Chi), how to feel it and what to do with it. He continues to explore and expand the boundaries of this research.
James Foo's Feng Shui teacher was Master Francis Yip of Toronto. He now combines his gift of seeing, feeling and tasting of chi with the Art of Feng Shui and he also utilizes the Four Pillars of Destiny Method.
He holds a degree in Science from Sussex University, England and a Computer Science degree from Imperial College.
He is currently Vice Chair of Hong Fook Mental Health Foundation and Co-Chair of the Fundraising Committee. He is also a Board of Director of the Friends of Alternative & Complementary Therapies Society (FACT).