Multiple Dates
Accident Awareness "You and the Road"
Accident Awareness Inc. is committed to preventing the realities of fatal motor vehicle accidents through educational programs.
About this event
If you are a mature driver or pedestrian, you won't want to miss this 2-part learning series.
In Part 1, You Will Learn More About:
Pedestrian safety hazards
Your rights when crossing at a lighted intersection.
Pedestrian cell phone use
Etc.
In Part 2, You Will Learn More About:
Potential hazards while driving.
Update on the Rules of the Road
Strategies of Parking
The Staged Collision
Etc.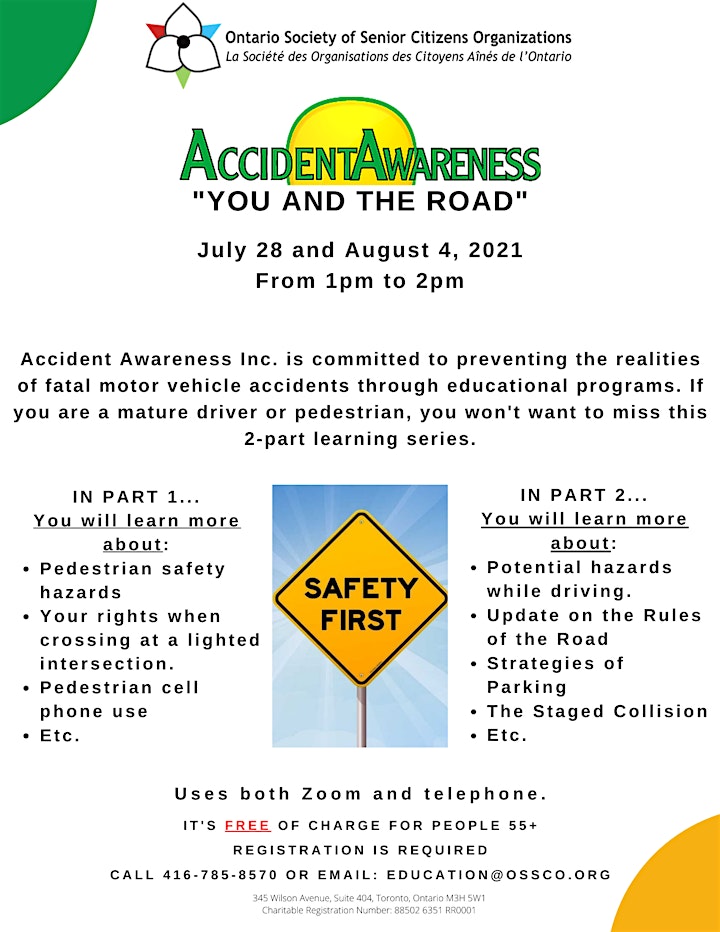 Organizer of Accident Awareness "You and the Road"
Founded in 1987 as an umbrella organization, Ontario Society of Senior Citizens' Organizations/La Société des Organisations des Citoyens Aînés de l'Ontario (OSSCO) is a network of organizations. Working as a collaborative group of community minded individuals OSSCO is committed to improving the quality of life for Ontario's seniors. We do so by involving people 55+ and seniors in our various learning activities, consultation/feedback sessions and influencing stakeholders.
OSSCO's mission is to support our aging population to enhance their quality of life through these educational programs, involvement research, and raising public awareness of what is important to this demographic.
More than 140 organizations representing 500,000 seniors in Ontario are under OSSCO's umbrella,
Through OSSCO's signature events, educational programs, social media engagement, production of educational YouTube videos and publications for people 55+ and seniors, we keep this community informed and educated on issues of interest and to make sure their voices are heard by stakeholders.