Description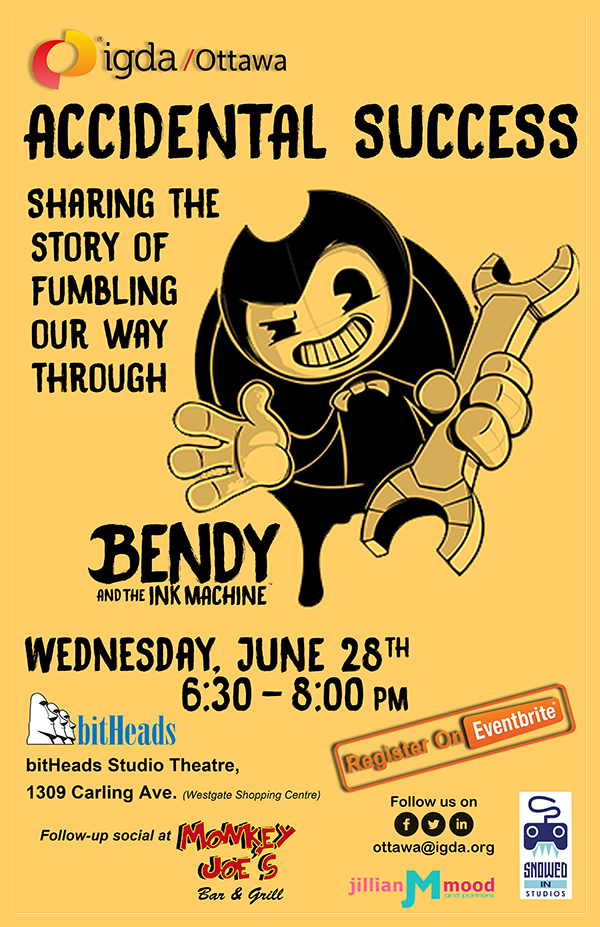 TALK SUMMARY
At our meetup this month, Mike Mood will share his team's story of fumbling through accidental success, while the world sees it as carefully and meticulously planned with detail.
Mike will specifically highlight how the team used common sense to make their business decisions and to build a company rather than just a game.
Spoiler alert, Mike and team claim they still don't know what they're doing.
SPEAKER BIO
Mike Mood is the Co-Founder of TheMeatly Games and Co-Creator of Bendy and the Ink Machine. Mike has been making games since early 2014 both as a professional and a hobbyist. Leaving a solid IT career behind and jumping into game development with no education or programming background allowed Mike to start with fresh eyes. Along with being self taught, becoming the organizer of the Ottawa Unity User Group, Co-Founder of Ottawa Game Jam, Contracting for studios like Karman Interactive, developing tools for developers in the Unity Asset Store, as well as attending and volunteering in many industry events, Mike was able to absorb much of his learnings through his peers. With the release of TheMeatly Games first big title Bendy and the Ink Machine, in early 2017, Mike had to put on a lot of hats to keep up with the success. With over half a million players and over 1 million YouTube videos the viral success put TheMeatly Games in a unique position. Mike now runs TheMeatly Games, with his partner theMeatly, as a studio with full time employees. Mike now works closely with the legal side of the company as well as business development which has lead to merchandising deals and other exciting ventures that will be announced at a later date. Mike's mission with TheMeatly Games both creatively and in business has been to hire the people who are experts at what they do so all the hats aren't being worn by one person. Both Mike and TheMeatly Games are just getting started.
AGENDA
6:30 PM - 7:00 PM - Networking and Refreshments
7:00 PM - 8:00 PM - Keynote with Q&A
8:15 PM onwards - More Networking at Monkey Joe's
We look forward to seeing you all there.
- The IGDA Ottawa Crew