Sales Have Ended
Registrations are closed
This event has now ended. Please register for our next hackathon!
Sales Have Ended
Registrations are closed
This event has now ended. Please register for our next hackathon!
Write Code. Get Noticed. Get Hired.
About this Event
Mintbean Hackathons
"I think what makes 'Jeopardy!' special is that, among all the quiz and game shows out there, ours tends to encourage learning." - Alex Trebek
Challenge
The Mayor of Mintropolis has acquisitioned an application to Memorialize the late Alex Trebek.
Alex Trebek Hosted the Mayors favorite game show Jeopardy from 1984-2020 needless to be said he will be missed.
He is asking the developers of Mintropolis create a Quiz Platform that will help this legend's memory live on.
"Jeopardy!" is a classic game show -- with a twist. The answers are given first, and the contestants supply the questions.
A user will compete in six categories and in three rounds (with each round's "answers" being worth more prize money). In the third round, "Final Jeopardy," the user can name their own jackpot -- as long as it's within the amount of money they've already earned. If a User finishes the second round with zero dollars, they are eliminated from "Final Jeopardy.
Do you have questions? We don't have all the answers, but your users might! Come build a place where your users will become the hosts of their very own quiz games!
--------------------------------------------
Are you a software developer? Looking for a new project?
Come join us and code together in a week long hackathon with a very active community of growth oriented developers gathered in one virtual place to help each other learn.
We kickoff with an orientation and challenge release on Fridays at 1PM EST and submissions are due on Thursdays at 12PM EST, followed by a fun & supportive project presentation where you can show off your work!
Don't want to code alone? You can hack along with up to 3 people! We even have a channel in our Discord for you to find a partner/group to hack with!
Join our Discord and find a partner or team in the #find-a-team channel!
Come join a fun and challenging coding competition, learn new skills, and meet new people from the comfort of your own home with Mintbean Hackathons.
Who Can Attend?
Front End Developers
Full Stack Developers
Self Learners
Job Seekers
Anyone who wants to code!
Event Details
Team Size: 1-3
Date: Friday, November 13, 2020
Start Time: 1:00PM EST / 10:00AM PST / 12:00PM CST
Where: Zoom*
*A zoom link will be emailed to you 10mins before the event starts!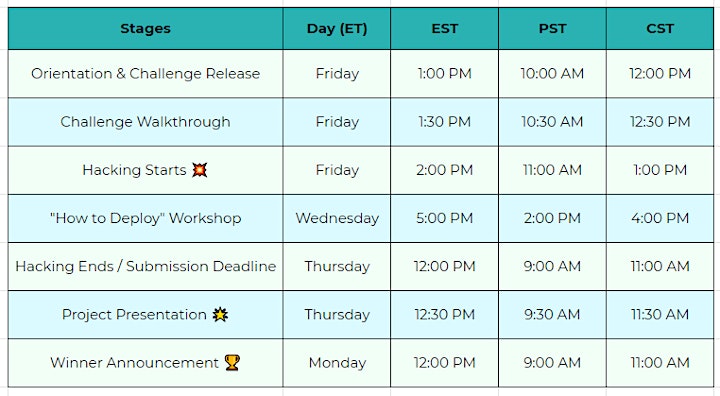 We also run webinars with amazing guest speakers on a variety of topics: JavaScript hacks, career tips in tech, and personal well-being!
Join us on this week's webinars:

In Partnership with Nucamp
After spending 18 years leading the development of digital learning at Microsoft, Ludo Fourrage experienced firsthand the lack of diversity in software development careers. He thought coding bootcamps might be the answer, but quickly discovered significant affordability and accessibility gaps, especially for those without college degrees, lacking previous job experience in technology, or underemployed even while working full-time.
So, he left Microsoft and started Nucamp in his Bellevue, Washington home to revolutionize how people access rewarding careers in software development, without requiring a college degree or expensive loans in the form of income sharing agreements.
FeaturePeek creates supercharged deployment previews of your frontend that you can share with your team to quickly get feedback on your implementation in progress.
A drawer overlay is added on top of your site that makes it easy for your reviewers to take screenshots with annotations, capture screen recordings, leave comments, create tickets on popular bug-tracking platforms, and more. You get this functionality just by deploying to FeaturePeek — no dependencies or code changes are needed.
About Us
Mintbean is an online community of software developers interested in perfecting their craft. Our virtual hackathons and online unconferences are a fast-paced and fun way to keep sharp. They help you impress potential employers, learn new technologies, grow your skill set, and build your portfolio.
Follow us on our social media: LinkedIn. Facebook. Twitter. Website
We're very excited for you to participate!