ACE/TEC: Addressing Conflict Effectively/Traitement Efficace du Conflit
About this Event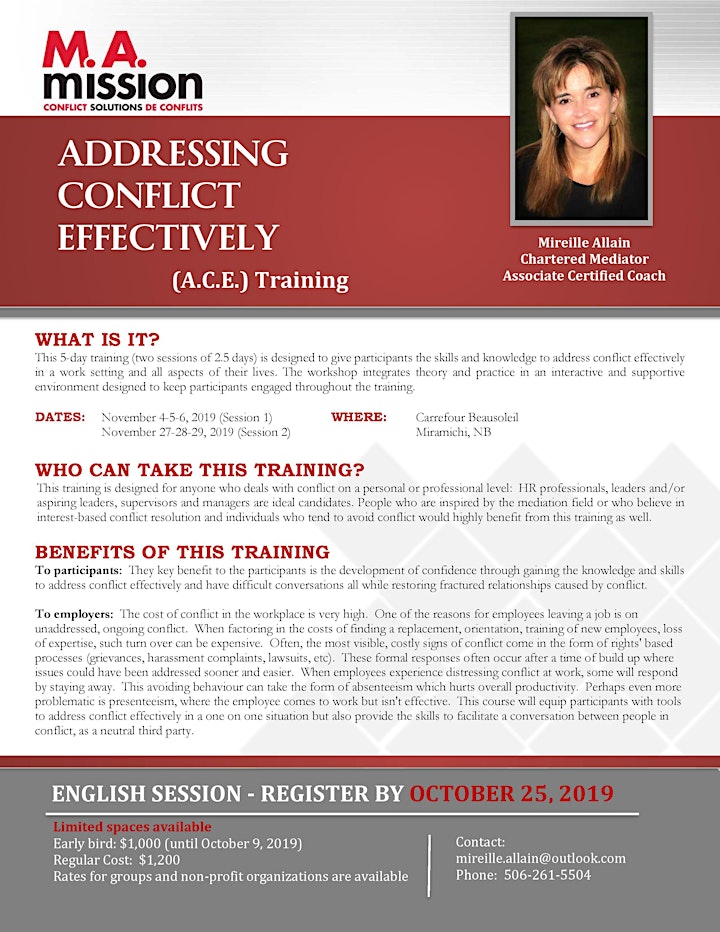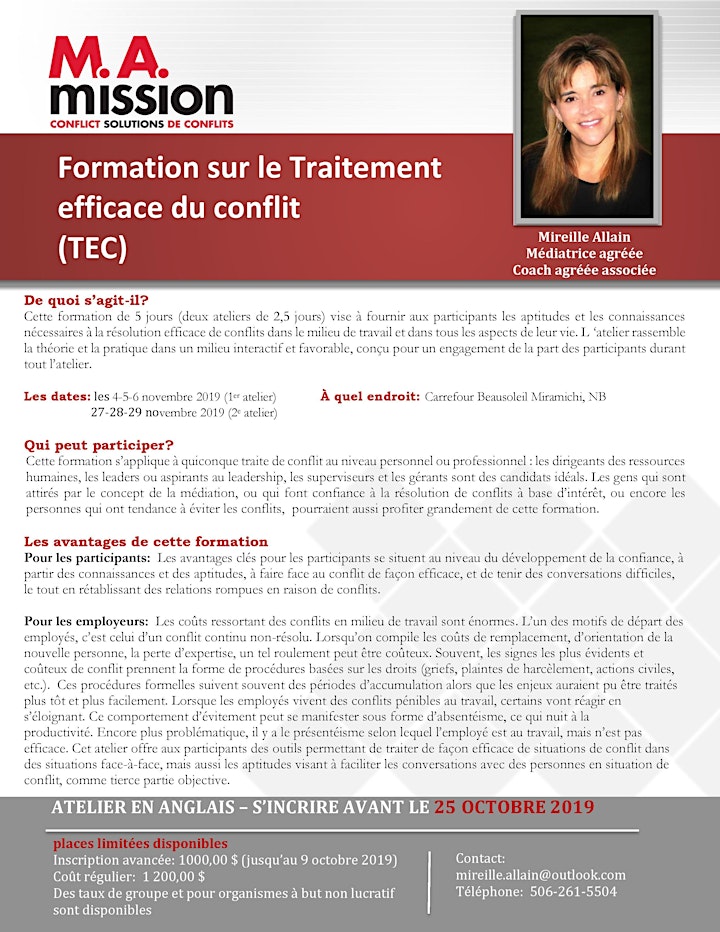 Cette formation de 5 jours (deux ateliers de 2,5 jours) vise à fournir aux participants les aptitudes et les connaissances nécessaires à la résolution efficace de conflits dans le milieu de travail et dans tous les aspects de leur vie. L 'atelier rassemble la théorie et la pratique dans un milieu interactif et favorable, conçu pour un engagement de la part des participants durant tout l'atelier.
This 5-day training (two sessions of 2.5 days) is designed to give participants the skills and knowledge to address conflict effectively in a work setting and all aspects of their lives. The workshop integrates theory and practice in an interactive and supportive environment designed to keep participants engaged throughout the training.
Inscription avancée: 1000,00 $ (jusqu'au 9 octobre 2019)
Coût régulier: 1 200,00 $
Des taux de groupe et pour organismes à but non lucratif sont disponibles
**les participants recevront une facture lors de l'inscription**
Early bird: $1,000 (until October 9, 2019)
Regular Cost: $1,200
Rates for groups and non-profit organizations are available
**participants will be invoiced upon registration**
À propos de M.A. MISSION Ltée
Mon nom est Mireille Allain et je détiens la désignation de médiatrice agréée auprès de l'institut canadien de résolution de conflit. Je suis aussi un "coach" accrédité au niveau de la fédération canadienne de coaching. J'ai de plus obtenu un Certificat en ressources humaines du College of extended learning de l'Université du NB. Je suis aussi détentrice d'un Certificat de tierce partie neutre auprès de l'Institut canadien sur la résolution de conflit. Je crois vraiment au développement du leadership et je suis accréditée au niveau du profilage de l'intelligence émotionnelle. J'ai une passion pour la résolution informelle de conflits et j'ai offert de la formation à des centaines de personnes au niveau des aptitudes dans le domaine des communications collaboratives.
Je suis propriétaire d'un entreprise de consultation appelée "M.A.Mission" et je suis une employée civile de la GRC depuis 24 ans. Mon expérience s'étend sur une carrière variée, incluant Échec au crime, le Centre de communication (répartition), les ressources humaines (recrutement et dotation du personnel au niveau des membres réguliers et des membres civils) en plus de la résolution de conflits pour le NB et l'ÎPE).
Je siège présentement au Conseil d'administration de l'institut de l'Atlantique sur la résolution de conflits.
Je suis très heureuse de fournir de la formation sur la résolution de conflit au niveau de la Miramichi.
ABOUT M.A. MISSION Ltd
My name is Mireille Allain and I hold a Chartered Mediator Designation with the Alternate Dispute Resolution Canadian Institute. I am also an accredited Certified Coach with the International Coach Federation. In addition to a Human Resource Certificate obtained at UNB's College of Extended Learning, I also acquired a Third Party Neutral Certificate with CICR (Canadian Institute for Conflict Resolution). I graduated from Royal Roads University with a Master's certificate in Executive Coaching. Highly believing in leadership development, I am certified in Emotional Intelligence profiling. I have a passion for informal conflict resolution and have trained hundreds of individuals in collaborative communication skills.
I have a private consulting company that focusses on conflict resolution called "M.A.Mission" and I have been employed as a civilian member with the RCMP for 24 years. My experience includes a varied career including Crime Stoppers, Operational Communication Centre (Dispatcher), Human Resources (Recruiting and Staffing of Civilian and Regular Members as well as the Informal Conflict Management Practitioner for NB and PEI).
I currently sit on the board of directors of the Alternate Dispute Resolution Atlantic Institute (ADR Atlantic).
I am delighted to bring conflict resolution training to Miramichi.