Description
The Association of Change Management Professionals (ACMP) Alberta Chapter is pleased to invite you to our Annual General Meeting!
A celebration of our 2017-18 accomplishments, we will conduct a brief review of our chapter, enjoy dinner together, and then grow our change skills with a fantastic speaker!
This event is proudly sponsored by the University of Alberta!
After the official AGM closes and dinner is served, we will hear Phyllis clark, Director at Bank of Canada and AIMco speak on Change Management from an Executive's Perspective.
Phyllis has led many transformational initiatives, and has come to appreciate the role change management plays in a project's success. You will hear about how change managers can work with executive sponsors, key lessons from various projects, thoughts on building an organizational change management program, plus other insights change managers can use as they work with executive sponsors. There will be time for Q&As.
About Our Speaker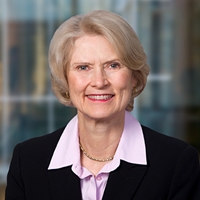 Born in Lethbridge, Alberta, Ms. Clark graduated from the University of Toronto in 1970 with a Bachelor of Arts degree in Political Science and Economics. She went on to complete her Doctorial Candidacy and Master of Arts in Economics at the University of Michigan in 1973.
From 2002 to 2016, Ms. Clark served as the Vice-President (Finance and Administration) and Chief Financial Officer at the University of Alberta, following five years as Vice President (Finance and Administration) at York University. Previously, she was Assistant Deputy Minister of Ontario's Management Board Secretariat and, between 1991 and 1992, was the province's Chief Economist and Assistant Deputy Minister of Finance.
Ms. Clark currently serves on the Board of Directors of the Bank of Canada, Alberta Investment Management Corporation (AIMCo), TEC Edmonton, the Edmonton Airport Advisory Board and the AMA Edmonton Regional Advisory and Insurance Boards. She also chairs the Edmonton Symphony and Concert Hall Foundation Board. She previously served on the Boards of the Universities' Academic Pension Plan (UAPP), the Edmonton Economic Development Corporation, and the Royal Mayfair, to name a few.
About the Location
L-300 at Enterprise Square. This room is on the lower level where you enter enterprise square from the LRT.
About Dinner
Dinner is complimentary for members in good standing, and will include a vegetarian option.
Agenda
5:00 Arrive/networking
5:30 Call to order
5:35 Membership and President's Report
5:45 Financials
5:55 By-Law Changes - Vote
6:05 Slate of Directors - Vote
6:10 Close
6:10 – 6:30 Dinner
6:30 Speaker