Free lecture – Acoustic Communication in Belugas: A Sound-Centred Species in Today's Noisy World
About this event
From the Vancouver Aquarium to Hudson Bay, from the Canadian Arctic to the St. Lawrence Estuary, marine mammal researcher Valeria Vergara has listened to the communication sounds made by belugas in diverse environments, addressing the challenges such sound-centred animals face in their increasingly noisy underwater world.
In this free lecture, Valeria will share her beluga studies spanning two decades, with a focus on methods for understanding the acoustic communication processes of another species, and on the intimate link between the study of cetacean communication and the issue of underwater noise pollution in our oceans.
This lecture is presented by the SFU Liberal Arts & 55+ Program.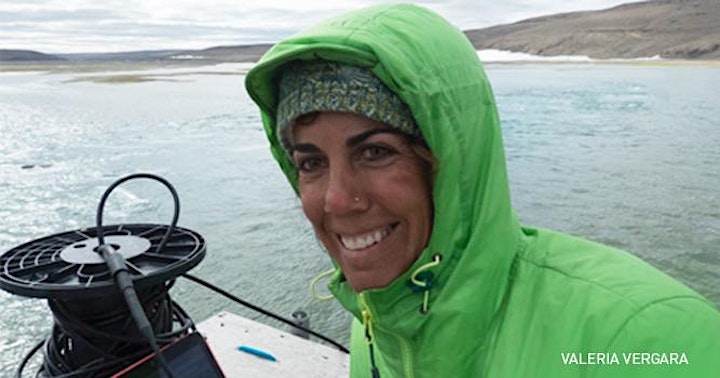 Lecturer
Valeria Vergara, PhD, is particularly interested in the communicative and perceptual capacities of marine mammals and the conservation implications of such capacities. She is a research scientist with Ocean Wise Conservation Organization, and serves as an adjunct professor with the University of Windsor.
Trained as a behavioral ecologist, she has participated in a diverse array of wildlife studies around the world, including baboons in Kenya, red foxes in Ontario, humpback whales in Newfoundland, Guiana dolphins in Colombia, killer whales in Argentina, B.C. and Alaska, and, during the past 19 years, beluga whales in various areas of Canada.
Her PhD research, through the University of British Columbia, was the first to document how beluga calves develop the incredibly rich vocal repertoire of this species, and the first to identify calls used for group cohesion and mother-calf contact.
More recently, Valeria provided preliminary evidence that beluga contact calls may function as "acoustic name tags." Her latest study showed that masking of the quiet, underdeveloped calls of newborn belugas by anthropogenic noise can impair mother-calf contact.
Organizer of Acoustic Communication in Belugas