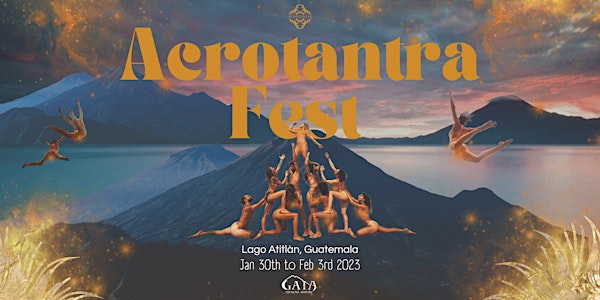 ACROTANTRA Fest 2023
A 5-day eye-opening experience where we allow our sacred selves to embark on a journey of conscious play and radical authenticity.
When and where
Location
Gaia Dance Temple 108 Calle Principal Tzununa, Sololá 01006 Guatemala
About this event
4 days 5 hours

Mobile eTicket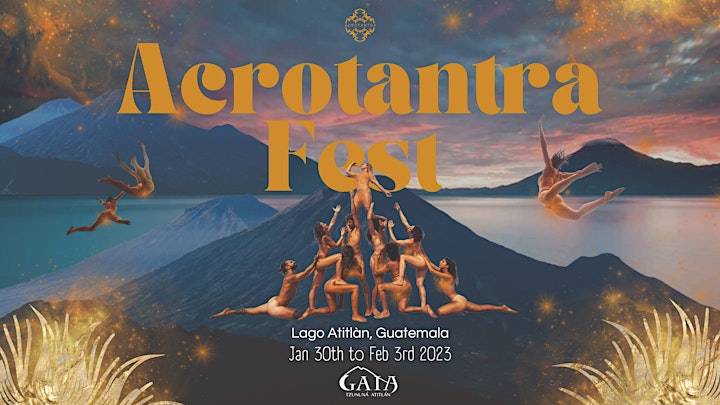 Enter the ✧ ACROTANTRA Fest ✧ portal at Gaia Dance Temple, Lake Atitlàn for a 5-day celebration and multidimensional magic. ACROTANTRA is a new modality that marries the wisdom of Tantric pleasure and consent teachings with the creative play and sensory activation of Acroyoga. Our definition of tantra roots itself in intimacy, full presence, authentic relating and safety in the body. Acro gives us a literal playground to embody these tools.
Come join us in this magical vortex, surrounded by volcanoes, traditional Mayan villages and Atlantis hidden at the bottom of the lake. It is deep one of the most beautiful places in the world and our humble honor to invite you here.
GAIA DANCE TEMPLE
https://instagram.com/gaiadancetemple?igshid=NDRkN2NkYzU=
This gorgeous temple is nestled into the mountains of Tzununá with views down to the lake. Here you will be in union with nature and feel the elements supporting you in your journey.
Acro+Tantra brings two worlds that are very similar and complementary together. Both tantra and Acro use practices such as physical touch, communication, creative play, sensory activation, exploration of human connection and the senses.
In essence, these communities work with themes of trust and vulnerability as a way to build intimacy and authentic connection to others. When we are vulnerable, we are authentic and therefore able to create deeper connections in a shorter amount of time.
Through the ancient spiritual wisdom of Tantra, we learn to express our boundaries, fears and desires. This in turn, expands our capacity to experience pleasure. When combined with the practice of acroyoga, we have the opportunity to apply this knowledge in a joyful co-creation of presence and surrender— we learn through fun!
WHAT'S INCLUDED
Unlimited access to 5 days of workshops, rituals and ecstatic dances from world class facilitators and DJs. Acrotantra brings you only the best of the sacred sexuality and acro worlds together with famous teachers from the International School of Temple Arts and Le Cirque du Soleil.
WHAT TO EXPECT
During these five days of celebration, we will offer different levels of Acroyoga and Tantra every day, so that everyone finds their sweet learning spot. We will have some of the best acroyoga teachers out there and will be blessed by the presence of our favorite Tantra teachers. Our days will be filled with movement, new learnings and pleasure explorations. Our nights will be guided by the music with ecstatic dances, cacao ceremony, breathwork journeys, sacred rituals and magical surprises.
No Alcohol or drugs permitted onsite.
WE ARE THE MEDECINE!
Camping spots available onsite at Gaïa Temple with pure Drinking water and showers included. They are very limited and cost $95 for all 5 nights. A huge range of Hotel and Airbnb options are also available for all budget levels, if you prefer not to camp.
Local, Organic meals onsite, as well as four other farm to table cafes a couple minutes walk from Gaia!
You can buy multiple types of tickets, for multiple people if necessary. If you are buying a ticket for someone else, be sure to include their name(s) in the Additional information section. Tickets are non-refundable, but are transferable to another Name for a $50 fee if you are unable to come.
At Acrotantra we believe that participation should not be prohibited by finances. If your situation does not permit you to pay for the festival. Contact info@acrotantra.com for information about volunteering in exchange for your participation.
Tickets start at just $222 until November 1st. Guatemalan Nationals are invited to come on a sliding scale - up to 50% off if needed. Email info@acrotantra.com with a copy of your DPI or Passport for the discount code.
HOW TO GET THERE
Flying into Guatemala City (GUA) is the fastest way to get to the lake from out of country. From there, a private taxi is easily arranged for the 4 hour trip—we encourage you to use the ACROTANTRA community to share this journey. Public shuttles can also be taken from the airport to Antigua, then Antigua to the Lake for a reasonable price.
You can also Share a Ride by posting in this group: https://www.facebook.com/groups/1077600559595877/