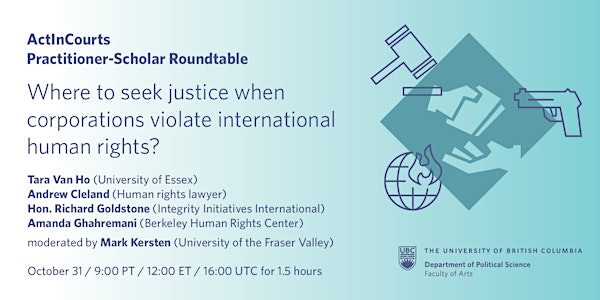 ActInCourts Roundtable: Corporate Violations of International Human Rights
Where to seek justice when corporations violate international human rights?
About this event
There is growing interest in holding corporations to international human rights standards. But where can individuals go when a corporation violates their rights under international human rights law?
For the seventh Practitioner-Scholar Roundtable hosted by the ActInCourts Network (UBC), we will convene a panel to weigh the options. Participants will discuss possibilities such as domestic courts (including with jurisdiction over rights violations abroad), international courts and commissions, and emerging bodies such as the International Anti-Corruption Court and the International Criminal Court. The panelists will be:
Zoom link available after registration.
Disclaimer: Please note that by registering via this service, your information will be stored on the Eventbrite server, which is located outside Canada. If you do not wish to use this service, please email cjtenove@mail.ubc.ca directly to register. Thank you.