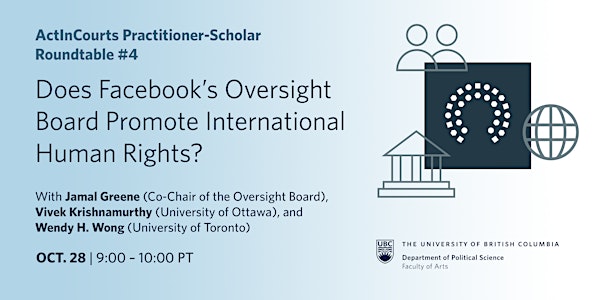 ActInCourts Roundtable: Human Rights and Facebook's Oversight Board
Does Facebook's Oversight Board Promote International Human Rights?
About this event
For the fourth Practitioner-Scholar Roundtable hosted by the ActInCourts Network, we will discuss the role of the Facebook Oversight Board in international human rights.
The Oversight Board is one of the most significant innovations in global human rights governance, affecting freedom of expression and other rights for over 2.5 billion users. Facebook created the Board to provide independent review of its decisions and policies regarding content on Facebook and Instagram. Since its launch in early 2021, the Board has issued decisions ranging from the suspension of President Trump's Facebook account to the removal of "harmful" content in France, Myanmar, Colombia and South Africa. It has freqzuently overturned Facebook's decisions and issued policy recommendations.
This virtual panel will discuss whether and how the Oversight Board adds to the international human rights architecture, undermines it, or does something quite different. The discussion will be led by:
Zoom link available after registration.
Disclaimer: Please note that by registering via this service, your information will be stored on the Eventbrite server, which is located outside Canada. If you do not wish to use this service, please email cjtenove@mail.ubc.ca directly to register. Thank you.