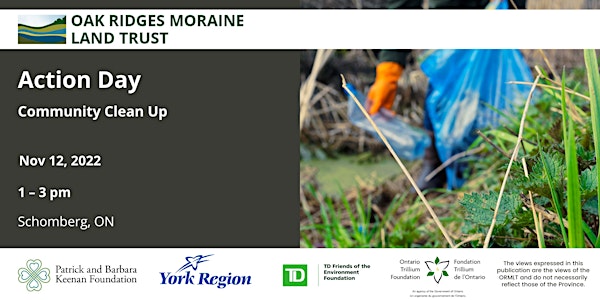 Action Day: Community Clean Up
We need your help cleaning up one of our Nature Reserves!
When and where
Location
MapleCross Nature Reserve, Schomberg 8th Concession Schomberg, ON L0G Canada
About this event
Illegal dumping has occurred on one of our Nature Reserves and we need some help to clean it up. We'll bring everything you'll need to help restore the area so wildlife can continue to use it safely.
Nov 12, 2022 | 1 – 3 pm | Schomberg, ON
Exact address will be provided closer to the date.
What's in it for you?
Great volunteering experience
A chance to contribute to your community
An opportunity to engage in citizen science
A free T-shirt, buff, refreshments and snacks
Covid-19 procedures are in effect as we want everyone to stay safe. We acknowledge that COVID is still being spread and is a threat to people's health. If you are not feeling well or have been in close-contact with someone who has tested positive for COVID, please stay home. We require all attendees to be fully vaccinated. While at the event, please wear your mask when social distancing of 6-feet is not possible.
Thank you for supporting nature!