Description
Action Instead of Reaction; The Reset Zone Way with Heather Skoll
Join this dynamic, interactive, and informative session with Heather Skoll, Founder of the Reset Zone app. Learn to use emotions to your advantage at work, in relationships, and in life. Whether you are 15 or 45 there are situations that trigger emotions. Perhaps an exam result left you feeling shaky about your future. Maybe you a difficult client or customer left you sweaty and frustrated. Possibly you need internal support to balance or transition between work and your personal life. Heather will help you identify when to pay attention to emotions. You will learn three key steps to RESET your emotions. You will experience one minute tools that are the signature of the Reset Zone app. You will leave the session with a new perspective about how facing emotions can help you become more productive and peaceful. Action instead of reaction. The Reset Zone Way.
In this session, you will:
Recognize the signs when your emotions are triggered.

Learn 3 key steps to quickly RESET your emotions.

Identify how to use your reactions to take action the Reset Zone way.
---
About Heather
Heather Skoll 
Founder & Creator of Reset Zone

As a young mom in the 1990's, Heather Skoll struggled to find calm as two of her three boys faced neuro-biological challenges, coupled with medications, side effects, and therapies. In these experiences, Heather quickly learned that she had to take care of her own inner chaos to become an advocate and anchor for her sons.
 Through her studies in Kripalu Yoga, Rubenfeld Synergy, and Martial Arts, Heather adapted strategies to use 'in the moment,' whenever she needed to 'reset' emotionally. Discovering the true influence of these tools when shared with others, Heather founded LifeNotes Wisdom, to house each of her teachings under one brand. Dedicated to helping others find and maintain their inner peace, Heather went on to create We Can Change the World Day, in support of WE Villages in Kenya and India. In engaging youth in volunteerism, leadership, and social action, Heather learned more about their stresses and was inspired to do more to help. As a result, the #ResetZoneApp was launched in 2018, featuring one-minute video tools to help calm the intensity of emotions. As a wellness entrepreneur, Heather shares this message to stages and audiences around the world, as she continues her mission to deliver quick coping tools to anyone, anywhere – right at their fingertips. Download Reset Zone to learn more – available in the App Store and on Google Play. 

www.resetzone.ca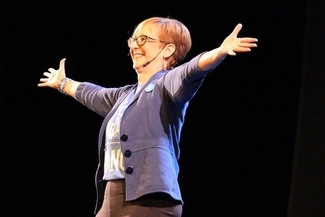 ---
What is Spotlight?
We know that staying up to date on today's big ideas and tomorrow's big trends is a job in and of itself.
As the world's first working, learning and growing store – we are excited to introducing Spotlight: a new community gathering and learning space. Spotlight will engage communities with knowledgeable experts to both inspire, inform, motivate and educate.
Spotlight is a space accessible to persons that use mobility devices. We encourage people from all backgrounds to participate in our public programming