Description
The economic consequences of the affordable housing crisis are vast, particularly in Canada's urban centres: increasing difficulty of attracting and retaining workers; fiscal over-reliance on real estate activity; historically high household debt; a growing wealth gap between renters and owners; long-term health and criminal-justice costs from homelessness and precarious housing, and more.
Rights-based arguments raise moral duty to safely, adequately and affordably house, but economic arguments for addressing this crisis point in similar directions.
When everyone from major banks and business groups, to organized labour, academics, politicians, housing providers, and housing-rights and poverty-eradication activists say the status quo puts us at risk, you know you have a wicked problem on your hands. And wicked problems don't get solved in silos.
We hope you'll contribute your ideas for tackling this wicked problem head on at Actions For Housing Now: Our collective challenge to re-couple housing costs and local incomes.
This invite-only facilitated event is a unique cross-sectoral, non-partisan day of learning and generative dialogue, leading to informed action.
You'll be joining regional mayors, business leaders, labour leaders, employers, housing experts, for-profit and non-profit developers, city councilors and planning staff, economists, housing advocates, and others civic leaders, to explore this essential, shared challenge.

HOSTS: The Tyee and Tyee Solutions Society, in partnership with Vancity, Generation Squeeze, SFU Urban Studies, Housing Central, the Canadian Housing and Renewal Association and the SFU Centre for Dialogue.
This event builds upon The Tyee's Feb 22 Home For Good, previous Actions For Housing Now events, and Generation Squeeze's October 2016 Common Ground dialogue. The day's dialogue will be captured by note-takers and re-circulated to participants within three weeks' time. All participants will be encouraged to carry the conversation forward in their respective realms.

CONFIRMED SPEAKERS:
Morning dialogue:
Mayor Jonathan Cote

(New Westminster)

Mayor Mike Clay (Port Moody, Chair of Metro Vancouver Housing Committee)
Irene Lanzinger

(President, BC Federation of Labour)

Anne Peterson

(Policy and Research Manager, Surrey Board of Trade)

William Azaroff (Executive Lead, Member Experience & Community Engagement, Vancity)
Innovation case studies (morning):
Tiffany Duzita (Director, Community Land Trust Foundation of BC)
Dale Mikkelsen (VP Development, SFU Community Trust)
Jake Fry (Founder/CEO, Smallworks)
Provincial and federal policy dialogue (afternoon):
Paul Kershaw

(UBC professor and founder, Generation Squeeze)

Jill Atkey (Director, Research & Education, BC Non-Profit Housing Association)
Steve Pomeroy (Senior Fellow, Carleton Centre for Urban Research and Education & Principal, Focus Consulting Inc.)
Additional dialogue hosts for the day include Peter Hall (Director, SFU Urban Studies), Kira Gerwing (Manager, Impact Real Estate, Vancity), Marla Zucht (General Manager, Whistler Housing Authority), Aaron Robinson (Senior Policy Advisor, Greater Vancouver Board of Trade), Andy Broderick (Investment Committee Chair, New Market Funds), and Margaret Eberle (Senior Housing Planner, Metro Vancouver), with others forthcoming.
MEDIA INVOLVEMENT: A group of skilled reporters from The Tyee and other media will be participating, but the event will be run under Chatham House Rule*. Confidentiality is ensured, but interested media will be on hand for those who would like to speak on the record away from the floor or at a later date.
ATTENDANCE NOTE: Registration is for the full day, but we expect some will only be able to join for the first half of the day, 8:30am – 12:00pm.
From 12:00pm - 4:00pm there will be a working lunch followed by a final speaker session and cross-sectoral dialogue. Once you are registered please inform us whether you will be attending part, or all of the day.
Questions to be explored at Actions For Housing Now
How might we speed and scale the development of more secure and affordable market and non-market rental, co-op, and alternative ownership housing?


What opportunities might shifting provincial and federal policy and finance priorities present to those working toward affordable housing solutions? Which yet-to-be-enacted policy recommendations hold the most promise for adoption and impact?


How much land might we leverage for this public good through smart incentives, creative partnerships, and alternative types of financing?


How might we leverage more private and institutional capital for this type of housing?


How might we work across silos – and sometimes competing interests - to support policies that level the playing field between renters and owners, and better enable British Columbians and Canadians to manageably afford their housing costs, save for retirement, and feel stable in their chosen communities?


What unconventional opportunities exist to boost renters' effective buying power?


What role can we each play – as individuals and organizations - to help re-couple housing costs and local incomes? What assets, resources, expertise, and/or influence might we bring to this challenge?



(Please note that of course other questions will surface, and the format of the day will allow for groups to self-organize around burning issues of concern to them.)
SPONSORS: Actions For Housing Now is part of The Tyee's Housing Fix project. Event sponsors include Real Estate Foundation of BC, Vancity, the City of New Westminster, UBC Applied Science, Catherine Donnelly Foundation, JW McConnell Foundation, Rivermarket, BC Federation of Students, Canadian Housing & Renewal Association, SFU Urban Studies and LandlordBC.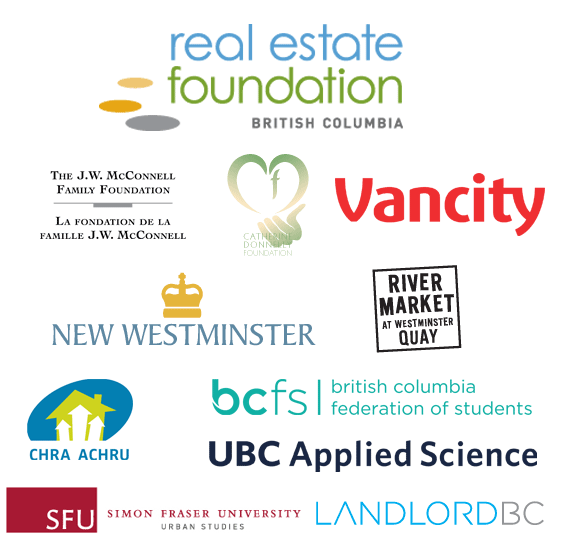 * When a meeting, or part thereof, is held under the Chatham House Rule, participants are free to use the information received, but neither the identity nor the affiliation of the speaker(s), nor that of any other participant, may be revealed.