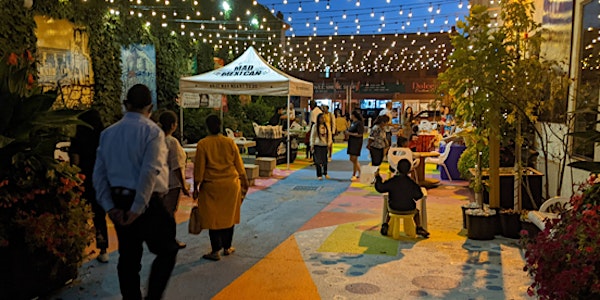 Activate Downtown Brampton Exhibit Opening Night Reception
A celebration of public life in public spaces!
When and where
Location
Gallery 35 35 Queen Street West Brampton, ON L6Y 1L9 Canada
About this event
The Activate Downtown Brampton Exhibit and Auction from Wednesday, December 7th to Wednesday, December 14th, will highlight the importance of community and placemaking in Downtown Brampton through a curated collection of photographs taken throughout the past 23 weeks of activation. The Exhibit will be accompanied by a Silent Auction that will include limited edition artwork, prints and photographs highlighting Activate Downtown Brampton.
All proceeds from the Auction will be donated to Regeneration Outreach Community – an organization that supports and provides basic needs to vulnerable Bramptonians.
The Opening Night Reception on Wednesday December 7th from 5:30pm to 8:00pm at Gallery 35 located at 35 Queen Street West, Brampton, ON will be a celebration of Activate Downtown Brampton and for the public and other attendees to have the opportunity to meet Brampton's Mayor, Downtown Brampton City and Regional Councillors, as well as project leads from 8 80 Cities, the City of Brampton and the Downtown Brampton BIA. Appetizers and beverages will be served.
The opening night reception is open to all. The agenda will include:
5:30pm: Welcome
6:00pm: Opening remarks
6:30pm: Silent auction & reception
Activate Downtown Brampton was a series of interactive installations and musical performances in Downtown Brampton's laneways and public gathering spaces from May to October 2022. The project was a collaborative partnership between 8 80 Cities, the City of Brampton, and the Downtown Brampton Business Improvement Area. The project was fully funded by the Government of Canada's My Main Street Community Activator grant, delivered by the Canadian Urban Institute (CUI). Year one of Activate Downtown Brampton has concluded and we would like to celebrate the success of the program with Members of Council and the public.
For more information visit: https://www.brampton.ca/ADB