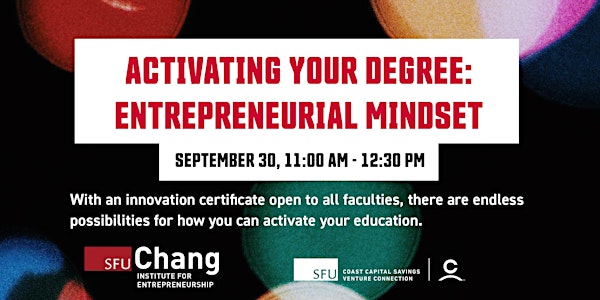 Activating Your Degree: Entrepreneurial Mindset
Take your degree beyond the classroom and activate your education with the entrepreneurial mindset. Register: https://bit.ly/3ikY1U8
About this event
Activating Your Degree: Entrepreneurial Mindset
SFU is the place to take your degree beyond the walls of the (virtual) lecture hall. With an innovation certificate open to all faculties, there are endless possibilities for how you can activate your education.
The Charles Chang Institute for Entrepreneurship guides and prepares you with the mindset to be the next entrepreneur or intrapreneur. Join us on September 30 to learn where your SFU peers started and how they have taken unconventional paths with their degrees to tackle real world problems.
Date: Wednesday, September 30
Time: 11:00AM
Location: Zoom (the link will be sent to you after registration)
Moderator: Edward Chiang, Co-Founder, Moment Energy (SFU program: Tech Entrepreneurship, Faculty of Applied Sciences, Coast Capital Savings Venture Connection)
Speakers:
Alanah Lam - Co-Creator, CoColour (SFU program: Health Change Lab; Faculty of Arts and Social Sciences)
David Waizel, Co-Founder, Studio Kleio (SFU program: Business of Design, School of Interactive Arts and Technology, Coast Capital Savings Venture Connection)
Viridiana Perez - Co-Founder & CEO, NANOSentinel (SFU program: Graduate Certificate in Science and Technology Commercialization (i2I) Invention to Innovation, Coast Capital Savings Venture Connection)

Western Canada's first university business incubator, Coast Capital Savings Venture Connection® is a university-wide incubator, entrepreneurship training program for students and recent alumni. From the initial business idea through to validation, Venture Connection® supports individuals exploring entrepreneurship possibilities. The program offers an early-stage business incubator, mentorship, co-op education terms, competitions, networking opportunities, workshops and seminars. Venture Connection® collaborates with all SFU faculties and departments, including the Beedie School of Business, the Faculty of Applied Sciences, the Faculty of Communication Arts and Technology, Work Integrated Learning and a wide-range of external partners. The program is supported by professional staff, including Mentors-in-Residence with substantial experience in a range of industries.

The Charles Chang Institute for Entrepreneurship is the interdisciplinary home and educational hub for high-impact entrepreneurship and innovation at SFU.
The Charles Chang Institute for Entrepreneurship presents the Discovery Foundation Tech 4 Impact Program – a blended program of inspirational Design Jams, speaker and mentorship series, mentor sessions linked to the SPARK online early-stage entrepreneurship resources, and the highly successful Discovery Foundation Embedded Mentors Program.