About this Event
Connect with industrial thought leaders and discover what it takes to dominate today's volatile market.
Activation is designed to empower trailblazers in the industrial marketplace. Created for like minded companies to connect while gathering insight into disruptive technologies and innovative sales and marketing trends.
A cocktail reception and complimentary appetizers to follow the panel discussion.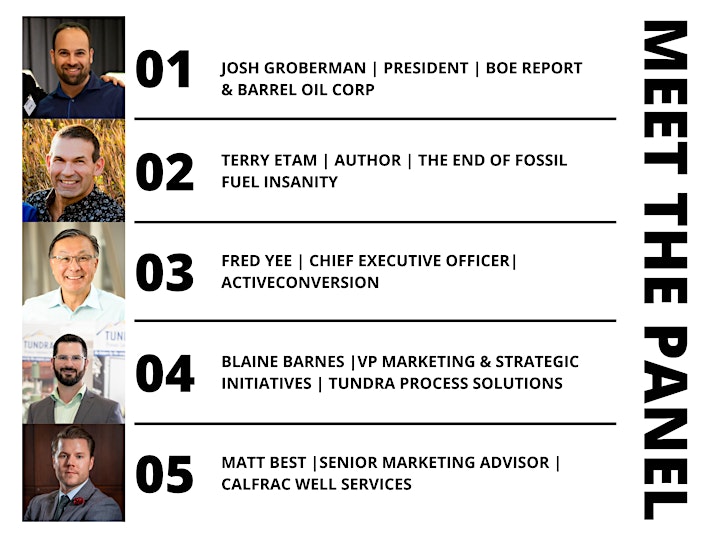 Panel Speakers Bios
Josh Groberman, President, BOE Report
is the founder of the popular oil and gas news website and newsletter, the BOE Report. He is also the president of a junior oil company, Barrel Oil Corp. As a young man, he dropped out of college education to pursue his entrepreneurial endeavours and hasn't looked back since. He is now a distinguished energy economist who spends his free time playing Overwatch and enjoying time with his family.
Terry Etam, Author, The End of Fossil Fuel Insanity: Clearing the Air Before Cleaning the Air
Terry Etam is a twenty-five-year veteran of Canada's energy business. He has worked at a number of occupations spanning the finance, accounting, communications, and trading aspects of energy, and has written for several years on his own website Public Energy Number One and the widely-read industry site the BOE Report. Mr. Etam has been called an industry thought leader and the most influential voice in the oil patch.
Fred Yee, CEO, ActiveConversion
Fred is the founder and CEO of ActiveConversion. Fred is an accomplished expert in the online marketing community. He was recognized in 2009 and 2010 as one of the Top 50 Most Influential People in Sales Lead Management and has been interviewed by industry media such as Demand Gen Report, Marketing Sherpa, Technology Advice, and at the Dreamforce Conference presented by Salesforce.com.
Blaine Barnes, VP Marketing & Strategic Initiatives, Tundra Process Solutions
Blaine Barnes is the VP of Marketing & Strategic Initiatives at Tundra Process Solutions. Mr. Barnes has worked in the industrial marketplace for more than 17 years. He was educated as an automation and measurement specialist, and is now working to apply those same principles to the B2B marketing environment at a dynamic, fast-paced, philanthropic and culture-filled organization.
Matt Best, Senior Marketing Advisor, Calfrac Well Services
Matt Best has over 9 years of experience working in sales and marketing . Matt has been involved in driving the diversification and expansion of Calfrac's business into other markets. He has a passion for marketing strategy, creativity and implementing strategic marketing tactics which can effectively be measured.
We are also excited to introduce out panel moderator, Hamish Knox.
Hamish Knox, President, Sandler Training - Calgary
A member of the global Sandler network, Hamish supports private organizations in Southern Alberta create and maintain a scalable, repeatable, consistent sales engines and an engaged, motivated team by holding them accountable to implementing the structures, systems and processes shared in our sessions.
Hamish was the first two time author in the Sandler network, writing books on topics no one likes to talk about. His first book was on accountability and his second on change. Hamish is regularly invited by Sandler Home Office to speak at Sandler's train-the-trainer conferences and Sandler's public Sales and Leadership Summit in Orlando. Last week he was the second Canadian invited to keynote at Sandler's global train-the-trainer conference in Baltimore. Committed to giving back so other entrepreneurs can enjoy the same opportunities he had when he launched his business, Hamish is an active mentor with Futurpreneur Canada, is a Maple Leaf Club donor to Enactus Canada and is a volunteer judge for regional and national student entrepreneur competitions.
Presented by:
Media Sponsor: