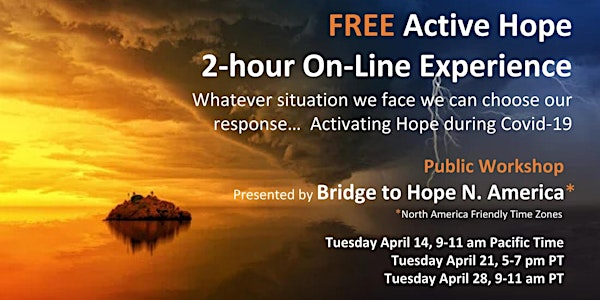 Active Hope NA FREE April online Experiences HOSTED by Bridge to Hope
Description
How to Face the Mess We are in without Going Crazy?
This Event is a FREE ENGLISH SPEAKING, offered in NA time zones by the BRIDGE TO HOPE team, and intended for the Global Coaching Community. This is a PAY IT FORWARD event for you to experience firstly and then the opportunity to be trained to Facilitate (part II) at no cost to you, if you want to facilitate the work. It's the BRIDGE TO HOPE Team's offering of service during CV-19. We want and need you "paying it forward" and sharing this healing experience with your colleagues, families, friends, clients.♥
These are ONLINE Zoom offerings and on registration you will be sent your confirmation email and unique Registration link to Zoom to join the meeting.
Please REGISTER ONCE for the DATE and TIME that works for you. You only attend one event; this is not a 3 part event experience.
April 14th Tuesday 9-11 am PT or
April 21st Tuesday, 5-7 pm PT or

April 28th Tuesday 9-11 am PT
Event Introduction:
Joanna Macy's framework "The Work that Reconnects" (Active Hope) has been practiced around the world since 1970s in many different forms. It's been taught to us in NA by Co-Active Coach colleagues from China who found the work empowering and inspiring during their Covid-19 outbreak.
This powerful 2-hour online experience was inspired by "Reconnects" and an article by Chris Johnstone, the co-author of "Active Hope" book. It was started by a group of Chinese coaches about three months ago, it has been helping thousands of people in China during the COVID-19 crisis. Now it is extending to the world...... and we as Co-Active alumni are offering it to you.
It is the work of reconnecting - to ourselves, to each other and to the world. You will be amazed how easy it is to connect if you are willing to open and listen. It's a powerful journey to turn our pain into hope and actions.
https://www.youtube.com/watch?v=arssbFNVkIM
Article by Chris Johnstone which summarizes the spiral:
There is a second part offering for PRACTITIONER Training (free) for ICF accredited Coaches which we will share more about at the end of the Online experience. The intention is you can then take this work out into your worlds, and to your clients, families, social groups.
Follow the Global Facebook page:
https://www.facebook.com/Active-Hope-Experiences-111488190498254/

your Bridge to Hope Team
Joni Mar, Nimrat Dhariwal, Sue Jordon, Clint Maurer, Sharlene Shah and Laura Burns