Active Hope (Post-Hub Gathering)

Thursday, 21 June 2012 from 6:30 PM to 9:30 PM (EDT)
Event Details
ACTIVE HOPE
A Waterlution Toronto post-Hub Gathering
---------
Featuring Talk by 

Joanna Macy
Organized by The Inner Garden

COST $15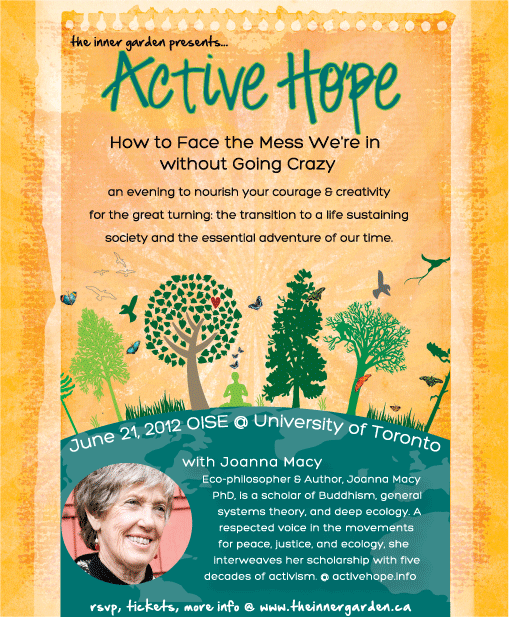 June 21 2012 , 6:00-9:00 PM
OISE, University of Toronto

Tickets at the door are $25 and in advance $20.
Tickets through The Waterlution Toronto Hub will be $15 for a group of 25 guests. We will also have a front-row section reserved.

Please sign up if interested, and The Toronto Hub Manager will announce when and where tickets can be purchased and picked-up in person. 
 _________________________
Join us for a transformative evening with special guest Joanna Macy; Active Hope will nourish our courage and creativity for the Great Turning; The epochal transition to a life-sustaining society & the essential adventure of our time.

Active Hope is about finding, and offering, our best response to the crisis of sustainability unfolding in our world. It offers tools that help us face the mess we're in, as well as find and play our role in the collective transition, or Great Turning, to a life-sustaining society.

Drawing from her latest book, Active Hope, co-authored with Chris Johnstone of the UK, Joanna will share stories and practices that make us glad to be alive right now in this amazing and perilous world.
Join us to learn more!


The Great Turning Film: Joanna Macy on Uncertainty
http://www.youtube.com/watch?v=soZ7ztuqTdM

                                     _________________________
When & Where

OISE, University of Toronto
252 bloor street west
Toronto, Ontario
Canada

Thursday, 21 June 2012 from 6:30 PM to 9:30 PM (EDT)
Add to my calendar
Organizer
The Waterlution Toronto Hub

Launched in November  2011, The Waterlution Toronto Hub continues to connect a vibrant and inspired community of water stewards in Toronto, by hosting space for capacity-building opportunities and meaningful multi-stakeholder dialogue.
The Waterlution Toronto Hub provides a regular gathering space to bring together water practitioners, stakeholders and the interested public to co-creatively explore questions of local, regional and international relevance. Hub events are intrinsically dialogue and participant focused, interactive and comfortably casual. Each event is stimulated by featured "provocateurs" – leading mentors with insight to share.

The purpose is to inspire, while weaving knowledge on a relevant topic, provoking dialogue, developing collaborative teamwork skills, bridging silos and facilitating action where possible. We employ an economy of generosity– everyone shares their ideas, questions, expertise, knowledge, stories and feedback as a gift.
Active Hope (Post-Hub Gathering)