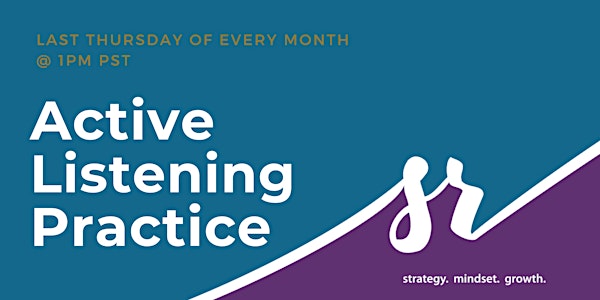 Active Listening Practice
This event is for leaders looking to develop deeper relationships with colleagues, employees or personal connections.
About this event
Have you experienced any of the following?
You've hit a wall around a challenge with an employee or colleague
You've received lower than anticipated scores on an engagement survey
You find it challenging to have difficult conversations
You've been told that you have a tendency to overshare
You've been told to listen more and "solution" less
You're a new manager seeking to develop your leadership skills
Engaging in active listening helps establish trust between both participants, shows empathy for others, and fosters psychological safety.
Your colleagues and direct reports will respect you more, and you'll see improvements in your relationships with them as a result.
Join us on the last Thursday of every month to develop your active listening skills. After each session, you will walk away with:
New active listening and communication strategies
Relevant experience (this is an applied practice!)
A deeper sense of empathy
Enhanced interpersonal skills
This is an interactive practice session where you will learn a mindful communication practice (a new one each month), have the opportunity to practice with a partner and take away a micro-practice to hone your interpersonal relationships.