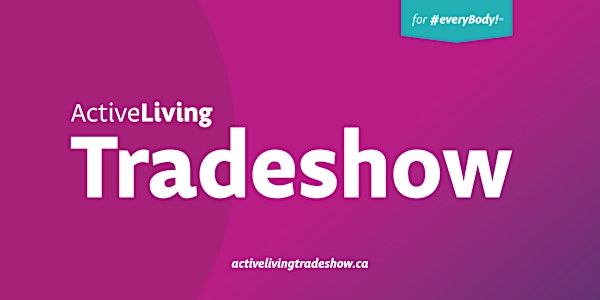 Active Living Tradeshow
The Active Living Tradeshow is a FREE 2-day exhibition showcasing accessible services & products for those living with a disability.
Date and time
Fri, Nov 4, 2022 9:00 AM - Sat, Nov 5, 2022 2:00 PM EDT
Location
Variety Village 3701 Danforth Avenue Toronto, ON M1N 2G2 Canada
About this event
The Active Living Tradeshow is a FREE 2-day exhibition showcasing accessible services & products for those interested in accessibility, inclusion, healthcare, sport, fitness, and healthy living.
Connecting consumers; their families, friends, caregivers, organizations, and healthcare professionals to products, services, and education for those interested in inclusion, mobility, sport, education, careers, and healthy active living. There's something for #everyBody!
Join us! The Active Living Tradeshow is a FREE exhibition on November 4 and 5th, hosting exhibitors at Variety Village as part of a 2-day conference welcoming the public, post-secondary students, educators, coaches, community organizations, and families interested in increasing their awareness of inclusive and healthy active living opportunities for diverse abilities.
3 great events over 2 days!
Registrants and attendees will explore vendors showcasing the latest products and services, enjoy panel presentations from practitioners and athletes, and participate in inclusive activity sessions. The tradeshow invites guests to learn about sports for all abilities, network, and visit exhibits focused on career, education, and innovation.
For more information visit www.activelivingtradeshow.ca
Part 1 The Tradeshow: FREE, registration is required.
Exhibitors showcasing the latest in accessible products and services
Try a variety of adaptive sports
Industry Experts and Resources
Guest Speakers, Awards and more!
Part 2 The Summit: FREE, registration is required. Click here.
The community leader Practitioners Summit features guest speakers, networking sessions and team building. Perfect for leaders and professionals in the disability community. The summit focuses on increasing awareness in recognizing and addressing potential barriers, promoting provisions in sport, health, recreation, and fitness.
Part 3 The Conference: Admission $45. Registration is for students and educators only.
Post-secondary students from across the province join the conference to increase their awareness of inclusive sport and recreation programming initiatives. Registration is for students, classes, schools, leadership programs, educators and coaches.
TRADESHOW DETAILS
Friday, November 4: 9:00am-7:00pm
Saturday, November 5: 9:00am-2:00pm
Variety Village, Scarborough
Variety Village, 3701 Danforth Ave, Scarborough, ON. M1N 2G2
FREE Admission
FREE Parking + Accessible Parking
FREE Wifi
Service Animal Area
Closed Captioning
Accessible Venue
ASL Interpreters
FOR MORE INFORMATION:
THE TRADESHOW
Alexandra Turnbull (she/her)Variety – the Children's Charity of Ontario & Variety VillagePhone: (416) 699 7167 x294Email aturnbull@varietyontario.ca
THE SUMMIT & CONFERENCE
Archie Allison (pronouns: he/him)Director, Access & Awareness, Variety VillagePhone: (416) 699-7167 extension 236Email: aallison@varietyontario.ca
EXHIBITORS & SPONSORSHIP
Jeff Yamaguchi (pronouns: he/him)Phone: (416) 508 2382Email: promedia@rogers.com
ABOUT THE ACTIVE LIVING TRADESHOW
The 3rd annual Active Living Tradeshow merges together what was formerly the Access Expo with the Active Living Conference. The Access Expo first started in 2019 and saw over 2000 attendees each year with upwards of 100 exhibitors. In its 24th year, the Active Living Conference has welcomed over 4,800 students, young professionals and educators.
A premiere event for the disability community the free Expo offers consumers the opportunity to browse and explore vendors who provide the latest in accessible technology, products, sports and services and healthcare.
Not only will guests have the opportunity to learn and shop. The expo will also provide access to a job fair, education fair, and sports demonstrations. These demonstrations build upon what is already working for participants and exhibitors while creating new opportunities to engage, showcase, and learn. All ages and abilities are welcome to attend!
ABOUT VARIETY VILLAGE
Variety world-recognized authority providing integrated sports, life skills, and learning programs that impact lives and strengthen communities. To learn more about the facility visit www.varietyvillage.ca.
_________
Photography/Video Event Disclaimer – Crowd Release Notice
By taking part in this event you grant the event organizers full rights to use the images resulting from the photography/video filming, and any reproductions or adaptations of the images for fundraising, publicity or other purposes to help achieve the group's aims. This might include (but is not limited to), the right to use them in their printed and online publicity, social media, press releases and funding applications without compensation. If you do not wish to be photographed please inform an event organizer.
Liability Disclaimer
By attending and participating in any activities, games, events, or activations taking place at Variety Village, 3701 Danforth Ave. Toronto, Ont. M1N 2G2, YOU HEREBY ASSUME ALL OF THE RISKS OF PARTICIPATING IN ANY/ALL ACTIVITIES being conducted by VARIETY – THE CHILDREN'S CHARITY OF ONTARIO & VARIETY VILLAGE. Including by way of example and not limitation, any risks that may arise from negligence or carelessness on the part of the persons or entities being released from dangerous or defective equipment or property owned, maintained, or controlled by them, or because of their possible liability without fault. I acknowledge that this Accident Waiver and Release of Liability agreement will be used by the event holders, sponsors, and organizers of the activity in which I may participate, and that it will govern my actions and responsibilities at said activity.
About the organizer
Variety Ontario is a world recognized authority providing integrated sports, life skills and learning programs that impact lives and strengthen communities. To learn more visit www.varietyontario.ca