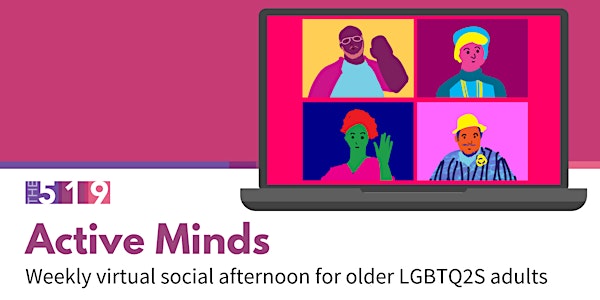 Multiple Dates
Active Minds: Friday Social event for older LGBTQ2S adults
Offered as part of The 519 Older LGBTQ2S Adults Program
About this event
Weekly virtual social afternoon for older LGBTQ2S adults. Offered as part of Older LGBTQ2S Programming.
Inviting older LGBTQ2S adults to join us for virtual fun, social gaming, and prizes. Let's bond over Jeopardy, trivia, brain teasers, and more.
Fridays • 2:00 to 3:30 pm
Questions? Need help registering? Contact Moji: MShirazi@The519.org
Organizer of Active Minds: Friday Social event for older LGBTQ2S adults
The 519 Older LGBTQ2S Program at The 519 provides people with opportunities to make deeper connections with their peers by socializing and learning through special events, guest speakers and promoting related community resources.
The 519 is committed to the health, happiness and full participation of the LGBTQ2S communities. A City of Toronto agency with an innovative model of Service, Space and Leadership, we strive to make a real difference in people's lives, while working to promote inclusion, understanding and respect.