Vancouver's brilliant post-punk and new-wave quartet ACTORS return to the Rickshaw stage on November 27th with guests, Booklyn's Bootblacks!
About this event
ACTORS and The Rickshaw Present ACTORS with Bootblacks, Devours, The Gathering
Saturday, November 27th, 2021
The Rickshaw Theatre
19+
Doors: 7:30pm
Early Bird Tickets: $20 + s/c
Available during ACTORS live stream only
4PM Friday August 6th to Sunday Midnight
Click here for more info on ACTORS live stream performance.
Regular Tickets: $25 + s/c
On sale 10am Tuesday, August 10th
ACTORS:
Vancouver's ACTORS electrify with a modern take on post-punk. Their anthemic songs evoke the urgency of early-80's U2, as well as the driving, synth drenched scores that emanated from the era's movie screens. As scene authority Post-Punk.com puts it, the band conjures "cinematic new-wave... that belongs on a Michael Mann soundtrack."
To put it simply, ACTORS produce addictively dancey, uplifting and melancholy sounds... Beautiful, dark music.
ACTORS has toured and established fanbases across the USA, Canada, and Europe.
ACTORS Online
Website // Instagram // Facebook // Twitter // YouTube // Bandcamp
Bootblacks:
Since the group's founding in 2010, Brooklyn based Bootblacks have been enthralling audiences with their frenetic live shows from the U.S. to Europe. Their sound is described as a balance of contradictions: both pensive and buoyant, referential and modern. Fitting, as the Bootblacks name is derived from novelist William Burroughs' description of the dark underbelly of glitzy New York City.
Bootblacks Online
Website // Bandcamp // Facebook // Instagram // Twitter // YouTube
Devours
Devours is the stage name of Jeff Cancade, a Canadian electronic musician. His music has been described as "a pseudo-goth, synth-heavy electronic project that occupies a uniquely experimental, queer niche in Vancouver" by The Globe and Mail. Outside of Devours, Cancade has also composed music for television and film.
Devours Online
Facebook // Instagram // Youtube
The Gathering
Based in Vancouver, Canada they played at some of the city's finer local music venues, with bands such as X, National Velvet, 13 Engines and Art Bergmann. The Gathering disbanded at the end of 1988 but iInspired by the resurgence of the Post Punk, New Wave and 80's music movement, they reformed in late 2017.
The Gathering Online
Website // Facebook // Instagram // YouTube
Supported by FACTOR
This project has been made possible in part by the Government of Canada. Ce projet a été rendu possible en partie grâce au gouvernement du Canada.
More info: www.factor.ca
COVID-19
Please ensure you have read the venues COVID-19 policies here.
Refund Policy
No refunds - unless event is cancelled.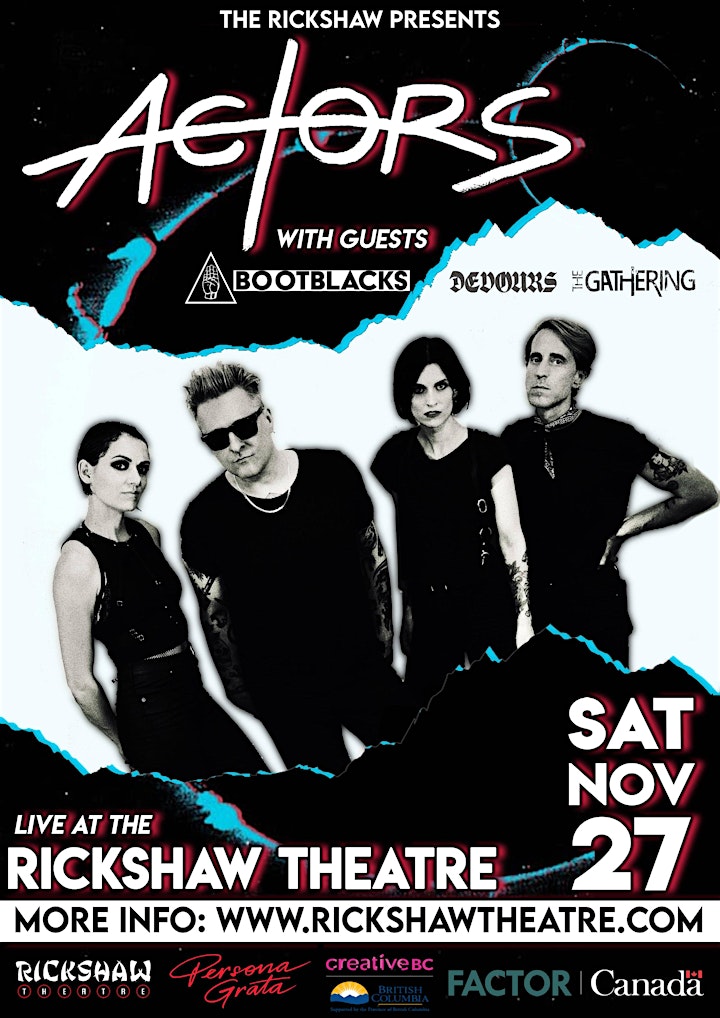 Organizer of ACTORS with Bootblacks, Devours, The Gathering