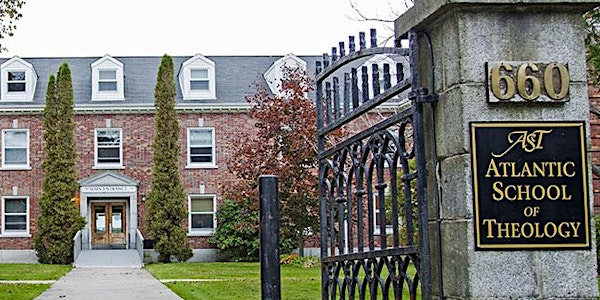 Acts of the Apostles
This course will engage in a close reading of Acts and investigate its multi-faceted cultural setting.
By Atlantic School of Theology
Date and time
Thu, Jan 5, 2023 10:00 AM - Thu, Mar 30, 2023 12:30 PM PST
Refund Policy
Contact the organizer to request a refund.
Eventbrite's fee is nonrefundable.
About this event
The Acts of the Apostles is a vivid historiographical narrative of the infancy of the Church. This course will engage in a close reading of Acts and investigate its multi-faceted cultural setting, its emerging ecclesiology, and its portrayal of foundational Christian figures including the apostles Peter and Paul.
About the Instructor: Dr. Evangeline Kozitza Dean, Assistant Professor of Biblical Studies at AST, earned a D.Phil. in New Testament (Oxford); an MA (Notre Dame); and a BA (Baylor). Her research engages the vitality of Scripture in multiple interpretive spheres within Jewish and Christian antiquity. She has focused on understanding intersections between New Testament texts, their early reception, and ancient visual and auditory cultures. Dr. Kozitza Dean is passionate about providing formation in the theological practice of fides quaerens intellectum ("faith seeking understanding"), and equipping students with wide-ranging skills in the interpretation of ancient texts.
Dates: January 5 - March 30 2023
Days & Times: Synchronous: live in real time via internet link or in-person on Thursday at 2.00pm - 4.30pm
Requirements: Weekly readings and discussions. No written work, projects, or presentations.
Books to purchase:
An NRSV Bible (recommended: The New Oxford Annotated Bible with Apocrypha) edited by Michael D. Coogan
World Upside Down: Reading Acts in the Graeco-Roman Age by C. Kavin Rowe
At least 1 of the following commentaries (your choice; email the professor if you would like further information to assist your decision):
Ancient Christian Commentary on Scripture, vol. V: Acts edited by Francis Martin
The Acts of the Apostles by Joseph A. Fitzmyer
Acts by Mikeal C. Parsons
Acts: A Commentary by Richard I. Pervo
The Acts of the Apostles: A Socio-Rhetorical Commentary by Ben Witherington III
Fee: $250.00
Format: Online or In-Person
COVID-19 protocols: Please visit https://www.astheology.ns.ca/home/covid-19/index.html
Please note: This Continuing Education program is non-credit, meaning it cannot be counted toward a degree or diploma, and will not be transcripted. Continuing Education registrations are refundable until 48 hours before a program commences, minus the Eventbrite processing fee. After that time, fees are non-refundable.
Questions? Please contact:
Ginny Wilmhoff, Continuing Education Convenor, at virginia.wilmhoff@astheology.ns.ca
Or the instructor, Dr. Evangeline Kozitza-Dean at Evangeline.Kozitza.Dean@astheology.ns.ca
Share news about this program with a friend:
Hi! I thought you might be interested in this program at Atlantic School of Theology this winter: https://www.eventbrite.ca/e/acts-of-the-apostles-tickets-450835008647
About the organizer
Leaders come in many forms. Atlantic School of Theology helps lifelong learners, post-graduate students, those seeking church vocations, and many others reach their educational goals. AST balances practical skill development with the pursuit of scholarly wisdom.
AST is located in the heart of the south end of Halifax, Nova Scotia. Our peaceful grounds are highly conducive to study. The beautiful waterfront of the Northwest Arm is in our back yard, with the woodland Point Pleasant Park nearby.
We are shaped by a tradition of cooperation and respect, going back over 200 years, to create an open, inclusive, and welcoming environment.
In registering for a continuing education program, you authorize Atlantic School of Theology, or its representative, to photograph and record your image and voice on still photographs, audio, or video media. You assign Atlantic School of Theology (AST) any and all rights, including copyright, on this material for promotional purposes.
 This material can be used, in whole or in part, for the non-commercial promotion of Atlantic School of Theology programs, events, or activities including social media such as Facebook, Twitter, the AST website and YouTube channel.
AST is a registered charity and welcomes donations in any amount (please click here).