Description
ACUTE CARE UPDATES (ACU)
Acute Care Updates is a full day accredited continuing medical education program dedicated to acute care medicine. The program will provide attendees with the knowledge and skills update to function effectively in the role of a care provider in an acute care setting.

Acute Care Updates will be led by the program chairs Dr. Ajay Kapur, Internist & Chief Medical Informatics Officer, and Dr. Jerry Maniate, Chief of Medical Education, Research, and Scholarship. Tentatively, this year's program will include topics on:

• Heart Failure: Stabilization & Optimization - Dr. Peter Liu, University of Ottawa Heart Institute
• Delirium Management - Dr. Syed Yasser Habeeb, SJHC

• Pain Management & Opioid Awareness - Jonathan Bertram, CAMH
• Acute Urologic Management - Dr. Hanmu Yan, SJHC
• Acute Liver Disease Management - Dr. Samir Grover, SMH
• Acute Back Pain - Dr. Mina Atia, SJHC
• Sepsis Management (qSOFA) - Dr. John Marshall, SMH
• Complications of Modern Medical Warfare - Dr. Jerry Maniate, SJHC & The Ottawa Hospital
• Antibiotic Stewardship Review - Dr. Mark Downing, SJHC
• Vasculitis Management - Dr. Simon Carette, UHN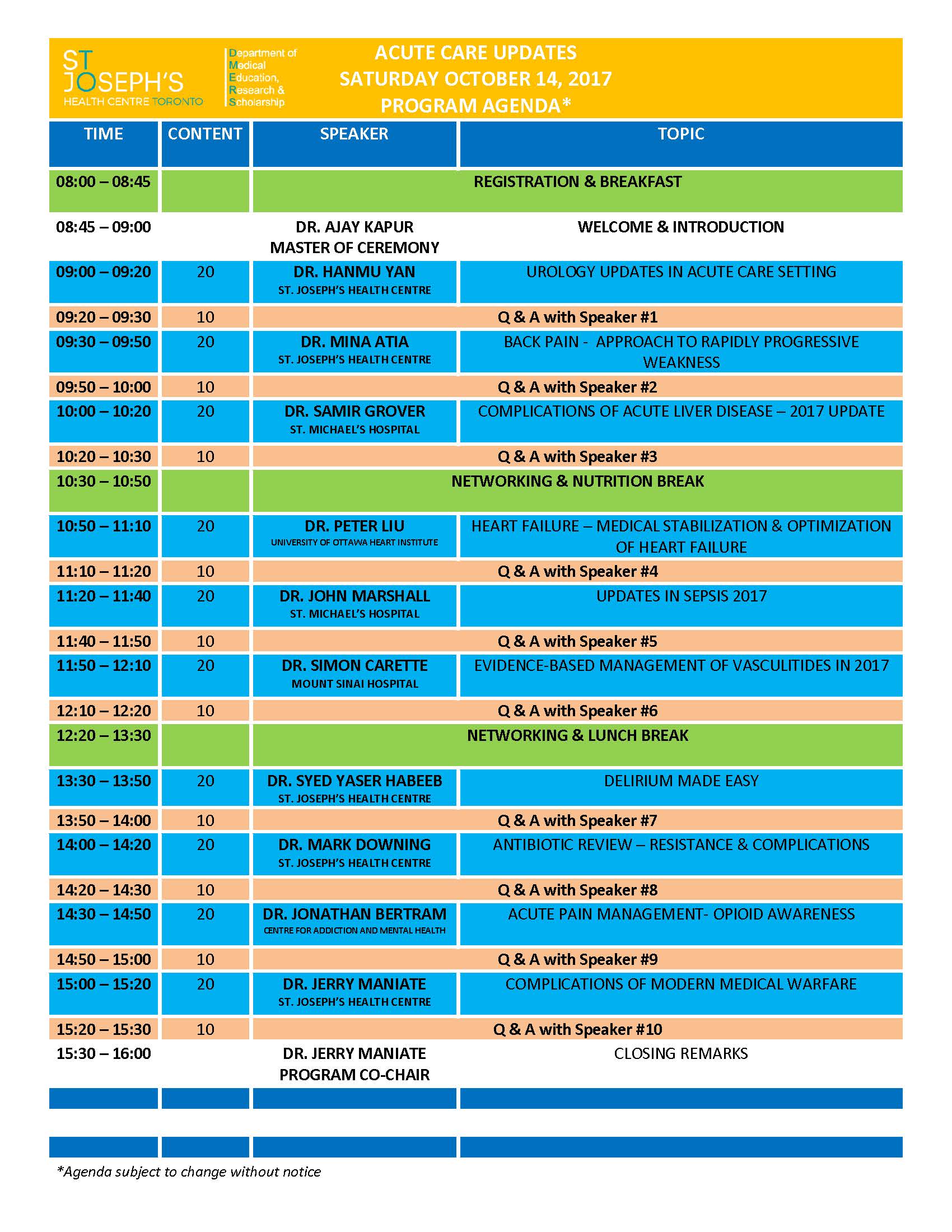 Accreditation
The Acute Care Updates has been designated as U of T Accredited and awarded with the following credits:
• The College of Family Physicians of Canada – 5.0 Mainpro+ credits (1 credit per hour)
• Royal College of Physicians & Surgeons of Canada – 5.0 Section 1 hours

Target Audience


Program open to all acute care providers including Hospitalists, Internists, Family Medicine, Specialists, Nurse Practitioners, Physician Assistants, Medical Learners, Pharmacists, and Nurses.
Breakfast and Lunch Provided!