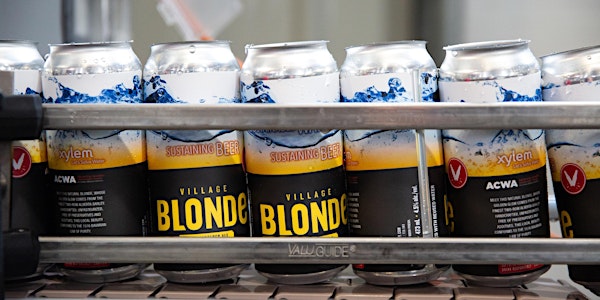 ACWA Reuse Beer Virtual Launch
Join us to celebrate the launch of ACWA's Reuse Brew, a limited edition batch of Village Blonde made with reused wastewater
By Advancing Canadian Water Assets (ACWA)
Date and time
Sat, Aug 22, 2020 10:30 AM - 11:30 AM PDT
About this event
ACWA has partnered with Village Brewery and Xylem to create Calgary's own reuse brew, the first-of-its-kind potable reuse project in Alberta! We're championing water reuse and bringing attention to the role of technology and policy in water sustainability.
Join us on August 22, Earth Overshoot Day, to enjoy a limited edition batch of Village Brewery's Blonde, crafted with reused water. We hope to see you virtually via Zoom to celebrate this exciting move toward increased water reuse in Alberta.
At our virtual launch event, you will learn how the reuse brew came to be and how you can help make water reuse a priority across the country.
For Calgary residents attending the webinar, you can pick-up or order ACWA Reuse Brew from Village Brewery to enjoy at home. Sales begin Monday, August 17.
Registrants will receive a Zoom URL 24 hours in advance.
Presenters:
Christine O'Grady – ACWA, Program Coordinator
Jackson Stuart – Village Brewery, Events and Marketing Lead
Jacqueline Noga – University of Alberta Water and Resource Recovery Lab , Social Research Coordinator
Jessica Popadynetz – Alberta Health Services, Provincial Strategies and Projects, Senior Advisor
Albert Cho – Xylem, Vice President and General Manager
Robert Haller – Canadian Water and Wastewater Association, Executive Director
Bob Sandford – United Nations University Institute for Water, Environment and Health, Chair in Water and Climate Security
Lee Jackson – ACWA, Scientific Director