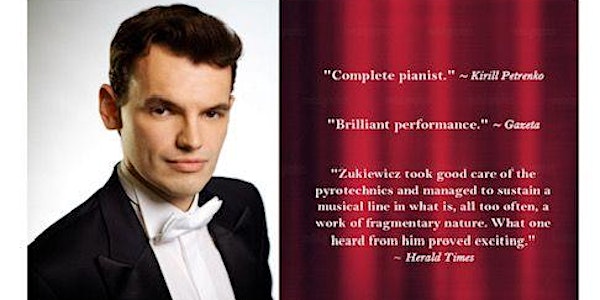 Adam Zukiewicz Piano Recital
When and where
Location
Steinway Piano Gallery Toronto 2651 John Street #8 Markham, ON L3R 2W5 Canada
Description
A native of Poland, Adam Piotr Żukiewicz is an award-winning, internationally acclaimed pianist. He has concertized across Europe, United States, Canada, Japan, Brazil, Hong Kong, and Macau, and his performances were broadcast in USA, Canada, Italy, Slovenia, Germany, and Poland. Mr. Żukiewicz consistently receives critical acclaim, while his creative artistic programming and interpretations continue to engage and inspire audiences around the world.

As an active soloist and chamber musician, Adam Piotr Żukiewicz performs internationally with renowned instrumentalists and vocalists in USA, Canada, Germany, Italy, Slovenia, Hong Kong, and Poland. Highlights of recent performances include recitals at the Carnegie Hall in New York, Royal Lazienki Theatre in Warsaw, and Chicago Cultural Center (Dame Myra Hess Memorial Concert Series), concerts with the Edmonton Symphony Orchestra, Toronto Sinfonietta, Toronto Concert Orchestra and Celebrity Symphony Orchestra. Mr. Żukiewicz has performed at some of the most important concert venues, including The Kennedy Center (Terrace Theatre) in Washington DC, Palau de la Musica Catalana in Barcelona, Beethoven Hall in Bonn, Residenztheater in Munich, Goldensaal at the Musikverein in Vienna, Teatro alla Scala in Milan, KKL Luzern, and many others.

Competition successes include several first prizes in competitions in Poland, First Prize at the 2012 Shean Piano Competition in Canada, First Prize at the 2011 TD Canada Trust Music Competition, and Second Prize at the 13th Pacific Piano Competition in 2011 in Richmond, BC. Mr. Żukiewicz is also a medalist of the 2014 Maria Canals International Piano Competition in Barcelona, Spain.

As an avid performer of new music, Mr. Żukiewicz regularly presents modern works and premieres new compositions: most recently Krystian Kiełb's Obrazy (Paintings) (2018), Oscar Peterson's Goodbye Old Friend (arr. Don Thompson/Adam Piotr Żukiewicz) (European premiere), Brooke Joyce's Lament for Orlando (2016), Stefano Sacher's La memoria di Medea (2016), Zdenek Trnka's Cervnova Nokturna (sonata pro klavir) (2015) and John Beckwith's Follow me (2013) with clarinetist Peter Stoll (recording released on an album Calling by the Centrediscs label).

His musical activities led to a recording of a debut album The Beginnings, celebrating Beethoven, Chopin, Peterson, and promoting music and cultural heritage of the modern masters Krystian Kiełb (Poland) and Jacobus Kloppers (South Africa/Canada). The Beginnings will be released internationally by the DUX label in the autumn of 2018.

Pursuing many educational interests, in 2009 Mr. Żukiewicz organized and led a regularly run series of music workshops at the St Michael's Choir School in Toronto. This outreach activity exposed students of the school to variety of classical and modern repertoire through musical performances presented by renowned international and Canadian guest artists, thus building musical and social bridges between the generations of musicians.

Adam Piotr Żukiewicz holds a Doctor of Musical Arts degree from the University of Toronto and Masters of Music degree from Indiana University. He has also studied at the Royal Academy of Music in London, UK, and was a music scholar at the United World College of the Adriatic in Duino, Italy.

Enthused by sharing music, thoughts and experiences of music, Mr. Żukiewicz also enjoys teaching, lecturing, impromptu performances, singing in an amateur choir, and musical discussions with musicians and music lovers alike. Beyond music, he takes pleasure in reading, connecting with people, sports, travel, and nature, which he finds most inspiring.

Adam Piotr Żukiewicz served as faculty at the University of Toronto and St Michael's Choir School in Toronto. His students studied in renowned institutions such as Indiana University and Eastman School of Music and their successes include festival and competition awards in Canada and USA.

Mr. Żukiewicz currently resides in Greeley, Colorado, where he was recently appointed an Assistant Professor of Piano at the University of Northern Colorado. He is also a Resident Faculty Pianist at the International Music Festival of the Adriatic in Duino, Italy. In recognition of his teaching, in 2017 he received the Steinway & Sons Top Teacher Award, and was an adjudicator of the 2018 Steinway Piano Competition.